The Consequence of Loving Colton (Consequence #1) by Rachel Van Dyken: Milo dreads heading home for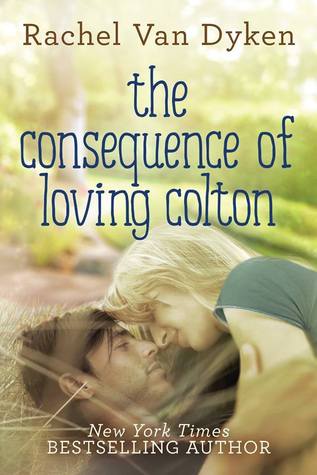 her brother's wedding since she'll be forced to be around the love of her life – Colton. Colton just happens to her brother's best friend and he treats her as a friend when she wants to be so much more. Colton sees Milo as "off limits" and he's very hesitant to put his relationships with her or her brother at risk by acting on his feelings. Milo's arrival home marks the beginning of what seems like everything going wrong, much like A National Lampoon's Christmas Vacation.
Milo and Colton have a relationship filled with constant bickering, as if that's the only way they know how to interact while fighting to ignore the blazing attraction between them. Things heat up when they kiss, but Colton apologizes! Milo doesn't react well and ends up dragging her male best friend, Max, into the drama.
Of course, Milo and Colton are still forced to interact as they need to help get everything ready for the wedding. Max's presence and antics just happen to push all of Colton's buttons. When Max makes an unexpected announcement, Colton is forced to face his feelings.
"I'd rather fight with you, bicker with you, every damn day of my life than have nothing at all. I'm selfish enough to want any piece of you-even if it's the bad, the ugly, the ridiculous. So even if you hated me, I'd still die a happy man-because I'd still be on your mind."
Even though both of them acknowledge their feelings, they have to deal with the consequences. It's difficult for Milo to truly believe that Colton has feelings for her or that they could mirror her own. He's given no indication before the wedding weekend that he ever saw her as anything other than his best friend's little sister.
"So I'm not a tree," I croaked. "And now you can't touch me?"
Colton shook his head, showing some frustration. "Women are such pretzels! Geez, let me finish."
"YOU KNOW I HATE PRETZELS, COLT!"
"Holy shit, where's Max when I need someone to say something stupider so I look like the good guy?"
The Consequence of Loving Colton is a laugh out loud hilarious romance. Rachel Van Dyken created engaging and memorable characters and situations. Ms. Van Dyken provided secrets, lies, manipulation, and interesting connections between the characters. Fans of The Bet series and Alice Clayton will love The Consequence of Loving Colton!
Book Info:

Publisher: Skyscape Publication: April 21st 2015
My name is Milo Caro and I have a confession to make.
I've been in love with Colton Mathews since I was five. He should have known that sharing a cookie with a sugar obsessed little monster would do the trick–it sealed his fate. So really, the fact that he's sporting a black eye, a limp, almost got ran over by a car, and was nearly responsible for another person's death? Right. His fault. Not mine.
I made a pact with myself–this weekend would be different. I'd come home for my brothers wedding, smile, and Colton would naturally melt into my arms, we'd get married have five kids, live in a house by the river, and get a dog named scratch (clearly I've thought this through).
What really happened? I punched my brother in the face, Colton kissed me and apologized, I lied about having a boyfriend, oh and everyone wants to meet the mystery man.
They say laughter always comes before insanity–ha, ha. All I wanted was my brother's best friend…instead I'm sitting in prison.
Let this be a lesson to you all…life rarely happens the way you want it to.
Damn cookie.