The Cost of Claiming His Heir by Michelle Smart is a December 2020 Harlequin Presents release, is EXACTLY why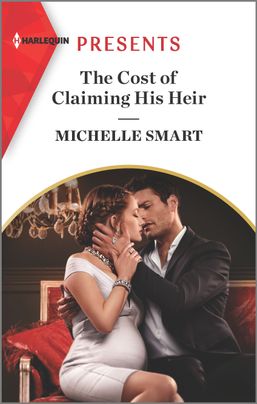 Michelle Smart is one of my favorite authors! Intense, emotional, fun, dastardly families, beautiful location and fabulous characters (including the dogs)!
Scientist Becky tumbles into billionaire Polo player Emiliano's life in the most unexpected way. Needing to mindlessly fill in time for four months, she's only too happy to become his dog-sitter. This doesn't sound like the usual foundations of a most wonderful story but honestly, it's brilliant! If you've read Book 1 of this fantastic duet, The Billionaire's Cinderella Contract, you'll know exactly what's happened the night Emiliano breaks his rules of never being with a staff member. I thought Michelle Smart did a great job of summarizing it all for a reader who may not have read Book 1.
The intensity that shines through the pages while Emiliano is dealing with his family issues, trying to run a polo empire and doing his best to dissuade Becky from leaving right through to discovering the life changing consequences of their one night makes an excellent story. The emotion is brilliantly captured and I loved how they resolved everything along with Emiliano's relationship with his half- brother (Hero of Book 1). Both Emiliano and Becky have unresolved issues with their families which hinders their personal progress but with everything that's going on together with the heart stopping finale, I can't fault The Cost of Claiming His Heir.
There's no requirement to read Book 1 because Michelle Smart does a great job of touching on the intrigue and adventure of Book 1 but to get the full experience, to be caught up fulling in all of the emotion I highly recommended it. The Cost of Claiming His Heir carries on almost from the fateful night at his Mother's party and it's a brilliant way of concluding that story arc. The emotion captured between Emiliano and Becky during all the other drama is brilliant and I can't fault the story at all.
Highly deserved 5 stars along with a huge I loved it, the last book for me read on the eve of welcoming 2021!
Book Info:

Publication: December 2020 | Harlequin Presents | The Delgado Inheritance Book 2
One night leads to life-changing consequences in this gripping pregnancy romance from Harlequin Presents author Michelle Smart.
Argentina's most desirable playboy:
Polo star, billionaire…father?
Blindsided by a shocking family secret, Emiliano Delgado spends a desperate, wildly passionate night with temporary dog sitter Becky Aldridge. But as he's cursing himself for breaching his boundaries, Becky has life-changing news…
A marriage proposal from Emiliano to claim his heir is totally unexpected. And everything independent Becky doesn't want, no matter if she's carrying his child or how intensely he tempts her. She has her own terms for becoming a family: if his heart stays off-limits, so does she!
From Harlequin Presents: Escape to exotic locations where passion knows no bounds.
Read all of The Delgado Inheritance books!
Book 1: The Billionaire's Cinderella Contract
Book 2: The Cost of Claiming His Heir