In The Country Guesthouse (Sullivan's Crossing #5) by Robyn Carr, When Hannah Russell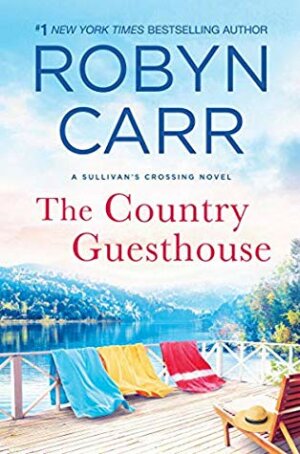 agreed to become guardian to her best friend Erin's child Noah, should anything ever happen, she never dreamed she'd have to take him in at just five years old. But when Erin unexpectedly passes away, Hannah becomes a mom instantly. Just after breaking up with her fiance. She thought she loved Noah before, but she is shocked by how protective she is for the special needs child who is kind and smart as a whip. Knowing the best thing for their grief would be to get away for a short while, Hannah takes Noah to gorgeous Sullivan's Crossing in Colorado for some sun and hopefully some laughter and healing.
"Hey, maybe we should just stay here!"
"Clever, Noah. I just haven't figured out how I'm going to support us if I don't go back to my job. If I don't work, how do I pay the bills and buy groceries? How much do you like food?"
"Not that much," he said, grinning.
Noah is instantly smitten with everything about the Crossing. Especially with landowner Owen's huge, goofy Great Dane Romeo. Owen usually stays out of the way by working in his shop when he has rental guests and he won't be away on a photography trip. But he somehow can't get enough time with Noah. Or with beautiful Hannah. A relationship is the last thing Owen is looking for. He's been through some tough situations in his life that still affect him today. But he can't deny that being there with Hannah and Noah just feels…right. Like they were meant to be a family. And even though Owen might not be great with putting his emotions into words, he knows he'll have to try so he doesn't lose the best thing that's ever happened to him.
"I'm afraid of being wrong again," she said.
"Aren't you afraid of walking away from something that's right? I am," Owen said. "Don't panic, Hannah. Just don't give up on us too soon."
Sweet romance. Tender moments. The unwavering love of family and close friends. This and so much more made The Country Guesthouse a heartwarming book that is definitely indicative of Robyn Carr's lovely writing style.
"I still miss Erin so much but every night I say a little prayer of thanks, hoping she's on the party line and can hear me. I will fight for Noah to the death."
"Welcome aboard, Hannah," Sierra said. "You're a mom."
I've enjoyed Robyn Carr's work for probably close to fifteen years now and with every new story she puts out, she continues to warm my heart with her insight into friendship, love, and family. This particular romance was a slow burn as it tended to be more about our heroine Hannah and adorable little five-year-old Noah healing after the sudden death of his mother, Hannah's best friend. It was heartbreaking watching them work through their grief. But so real. And the bond that formed between them was inspiring as well as so very touching to see. They had a lot of help along the way from not only Hannah's friends, but also everyone in Sullivan's Crossing who lent a helping hand and gave sound advice whenever needed.
Owen, our kind and compassionate hero, actually turned out to be more of a beta hero which fit his personality, upbringing, and even his career rather well. I will warn that his backstory includes a horrible event that might be tough for some readers to get through, but it really explained why Owen was protective of Noah and Hannah right away. I loved how thoughtful he was with his guests–who ended up becoming so much more to him over time. They all had some healing to do emotionally. And the connection they made, the family that formed out of Owen, Hannah, and Noah bonding felt genuine as well as meant to be. Through every trial they faced, I liked that the lines of communication were open. That was a breath of fresh air where there was no hiding things from each other and Hannah and Owen tried to be honest at every turn. How could their relationship not thrive in that kind of environment, right?
A poignant story about loss, love, and learning who you really are–and who you can trust–The Country Guesthouse was utterly charming, filled with wonderful characters you can't help but adore.

Book Info:

Publication: January 7th 2020 | MIRA | Sullivan's Crossing #5
A summer rental, a new beginning…
Hannah Russell's carefully crafted plans for her life have been upended without warning. When her best friend died suddenly, Hannah became guardian to a five-year-old named Noah. With no experience at motherhood, she's terrified she's not up to the challenge. She and Noah need time to get to know each other, so she decides to rent a country house with stunning views on a lake in rural Colorado.
When they arrive at the house, they are greeted by the owner, a handsome man who promises to stay out of their way. But his clumsy Great Dane, Romeo, has other ideas and Noah immediately bonds with the lovable dog. As Hannah learns to become a mother, Owen Abrams, who is recovering from his own grief, can't help but be drawn out of his solitude by his guests.
But life throws more challenges at this unlikely trio and they are tested in ways they never thought possible. All three will discover their strengths and, despite their differences, they will fight to become a family. And the people of Sullivan's Crossing will rally around them to offer all of the support they need.
#1 New York Times bestselling author Robyn Carr delivers an emotional and triumphant novel about the fierce power of a mother's love.