In The Couple who Fooled the World by Maisey Yates, Julia Anderson is the richest woman in the world. Monetarily at least. She has armor that keeps her steady and feeling normal, but Ferro Calvaresi scratches at it every chance he gets. As the head of Anfalas, she has to be the public face of her company. At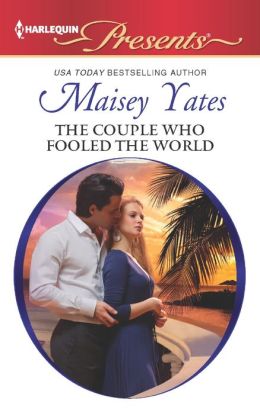 her latest unveiling, Ferro – being the head of her rival company, Datasphere – hacks into her presentation and embarrasses her. Nothing new there, but this time he has an ulterior motive.
Ferro hijacks Julia after the presentation and offers her a proposal. Team up with him to get a lucrative contract and it will shut out their slimeball competition. There's a catch though. With their very public history, he thinks appearing in public as a couple would allow the partnership to be more believable. She's reluctant, but when he invites her to a sci-fi movie opening, she jumps at the chance.
Who knew their relationship would be so very public? They made the news – BIG news. They were in this come hell or high water – which meant that when Julia has a wedding to attend, she feels obligated to ask Ferro along as her plus-one. Of course it has to be a destination wedding… in Alaska… with one hotel room… and one bed.
The tension between them is palpable. They had already shared a kiss that rocked Julia, but with her history that only made her more terrified. Ferro felt nothing – which is the story of his life. He's worked hard to make that possible, and Julia threatens his facade. Things get a little hot and heavy, and the aftermath is devastating.
Now they have to work together and make a killer presentation. Ferro is stunned by his behavior when surrounded by the execs – he's never lost his cool. How can someone so detached feel so strongly about someone… well, several someones. In trying to prove his coolness, he ends up making a mess of two people's lives. Perhaps if he embraces the shades of gray instead of seeing the dark and the light, he can make things right.
I absolutely adore Maisey's writing, and this was no exception. The sex scenes were super hot, and I really felt a connection with the characters, Julia especially. My heart broke for all the hardships both characters had to endure – and while I was a bit surprised about a small twist in the story, it ended up making a lot of sense in the end. Clever actually. A really good read, and if you're a nerd like me – you'll get into the tech side of things.
Book Info
Publication Date: June 18, 2013 | Series: Harlequin Presents (Book 3157)
The true meaning of keep your enemies close…
Most women would kill to be on Ferro Calvaresi's arm. The enigmatic Italian is one of the richest men in the world and at the top of his business game. Julia Anderson is not most women. She's as rich as Ferro and twice as hungry.
The only way to seal a major deal is for these two rivals to play nicely…together. Yet neither expected the media to soak up their ruse so quickly or so publicly! But when the deal is won, is the world's hottest new couple beginning to believe their own lie?