In The Story Guy by Mary Ann Rivers, Carrie gets a kick out of reading the MetroLink personals on her downtime from her job at the Metropolitan Library. She begrudgingly admits to herself that she is a bit lonely, but perusing the personals is more entertainment factor than serious searching. However, she stops short on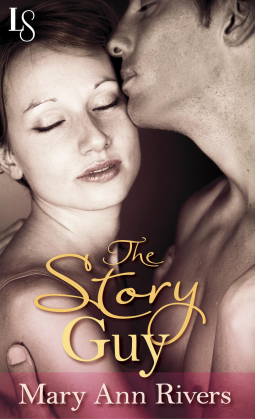 an ad picturing a handsome man looking for "kissing only on Wednesday afternoons". Is he serious? And if so…how intriguing and weird?!.
I will meet you on Wednesdays at noon in Celebration Park.
Kissing only. I won't touch you below the shoulders. You can touch me anywhere.
No dating, no hookups. I will meet with you for as long as you meet me, so if you miss a Wednesday we part as strangers. No picture necessary, we can settle details via IM.
Reply back with "Wednesdays Only" in the subject line.
Carrie surprisingly finds herself responding to the stranger and providing her IM handle so she can determine if he's being honest in his intentions. He responds shortly and they share a brief but telling conversation via chat that makes her decide to take a chance on Brian and see what his Wednesday idea is really all about.
Carrie is all nerves as she approaches Brian in Celebration Park where he'd asked her to meet him at noon the following Wednesday. But from the first moment she sees him, she is smitten. He arrives on a bicycle although he's dressed like a businessman in a suit. He's tall and lanky but she can tell he's very fit and very strong.
"I turn to him, putting my umbrella on the table, arranging the pleats in my skirt over my knees, the hem of my sweater over my hips, fussing as though I'm settling into a church pew with my mother instead of a park bench with a superhot stranger who shortly will introduce his tongue into my mouth. Probably."
Electricity buzzes between them as soon as they make introductions and before she realizes what's happening, they are sharing one of the most incredible kisses she's ever had in her life. Brian admits he feels the same connection and suddenly the hour they had set aside to meet and kiss flies by.
"I have never had a first kiss like this. Is it that he's a stranger? So beautiful? If so, I am ruined for anything but beautiful strangers for the rest of my life."
Carrie doesn't want to wait another week to share time with Brian again, but he's adamant that this hour each week is his escape and the only thing he can commit to at this point. She decides to finally tell her best friends and coworkers, Justin and Shelley, about her meeting with the mysterious guy. They are thrilled that she's getting out there again even though Shelley doesn't want her to set herself up to get hurt. Justin tells Carrie, Brian is 'A Story Guy'
"A story guy?"

"Yeah, a good guy with a bad story doing something stupid."

"Explain to me why a story guy is better than a pervert."

"Story guys are like life highlighters. Your life is all these big blocks of gray text, and then a story guy comes in with a big ol' paragraph of neon pink so that when you flip back through your life, you can stop and remember all the important and interesting places."
Carrie can't stop herself from trying to figure out what it is that Brian is hiding and what is causing the sorrow she sees in him. He simply tells her that his life is complicated, but as they spend more time talking (and kissing), he begins to let Carrie see bits and pieces of his life. She starts to understand why he can't commit to more than a few stolen moments at a time with her, and her compassion and respect for him grows in leaps and bounds. Brian admits that he would give anything for his life to be different so he could pursue Carrie and treat her the way she deserves, with time, respect and the utmost care.
They finally reach what Carrie feels is the point of no return in their relationship only to have Brian pull away from her. She is devastated but knows, given his situation, maybe a happily ever after may not be in their future. She tries one last time to reach out to him and offer whatever he needs from her, whether that is her time, lips, love or safety. The only question is: will Brian accept her gift to him?
I absolutely fell in love with Carrie and Brian's story and cannot say enough wonderful things about it!
Mary Ann Rivers wrote this from Carrie's point of view, meaning that you get to understand her charm, snarky wit and ability to love completely while she's searching for the answer to Brian's mysterious life. I seriously admired Brian's strength and empathized completely with his situation, having been through something similar over the past ten years myself. These two characters truly deserve a lasting love and to have someone in their lives to share both the good and bad times. I'll admit I really loved the nerd humor Mary Ann used throughout the story as well, keeping a thread of lightheartedness in between the emotional intensity.
"Didn't I tell you? My favorite stories have crying at the end"  The Story Guy is just precious! It's been a while since a debut book made this big an impression. The Story Guy will definitely engage all of your emotions, just be prepared to shed a few tears and give a few happy sighs… I highly, highly recommend this captivating novella.
Mary Ann Rivers, If you write I will read!  
Book Info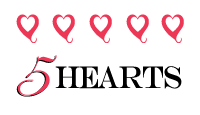 Publisher: Loveswept (July 8, 2013)
I will meet you on Wednesdays at noon in Celebration Park. Kissing only.
Carrie West is happy with her life . . . isn't she? But when she sees this provocative online ad, the thirtysomething librarian can't help but be tempted. After all, the photo of the anonymous poster is far too attractive to ignore. And when Wednesday finally arrives, it brings a first kiss that's hotter than any she's ever imagined. Brian Newburgh is an attorney, but there's more to his life . . . that he won't share with Carrie. Determined to have more than just Wednesdays, Carrie embarks on a quest to learn Brian's story, certain that he will be worth the cost. But is she ready to gamble her heart on a man who just might be The One . . . even though she has no idea how their love story will end?