The Cowboy and His Baby by Jessica Clare: Dustin is a sexy cowboy with a restless soul. He loves getting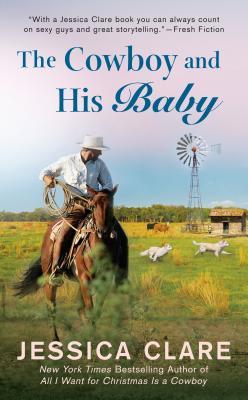 to know new people and exploring, which is partly how he ended up as a cowboy on a ranch in Wyoming. He enjoys the work, especially with the animals and being outdoors, and living in a smaller community. He's certainly charming and not looking to settle down.
Annie loves animals and sort of fell into her job as a dog trainer for Hollywood movies. She loves finding rescues for all the movies she works on, but she struggles when it's time to find those dogs new, happy homes. She's sweet, loyal, and more of the girl next door rather than your typical Hollywood type. Dating gets to be difficult with her job and she's not interested in causal flings.
Dustin is used to his charm and smile winning over any woman he has his eye on, but Annie calls him out and doesn't fall for his charm. Lucky for Dustin, she needs his help and he's able to show her another side of himself. Both know that Annie's going back to LA when her film wraps, but they enjoy spending what time together that they can manage.
"This isn't a date."
"No, ma'am."
"I just need a friend with a car."
"Of course." His tone remained even and easy, as if he were amused at her protests.
"And after this, I'll probably never call you again."
Dustin is surprised by how much he wants to know more about Annie and that he's not quite ready to move onto the next adventure or woman. She settles him and he makes her feel beautiful, desired, and cherished. Dustin really can be quite the gentleman and very patient when it comes to Annie. A surprise pregnancy throws both of them and changes everything.
"Will Moose and I get to see you again?" he asked after a few minutes of quiet.
"I like how you threw the dog in there."
"Well, sure. I need to make sure you say yes."
The Cowboy and His Baby is a sweet romance with quite the ups and downs. Jessica Clare found a balance in developing the characters and romance with banter, heart, and tension. Ms. Clare introduced colorful new characters along with Eli, Cass, Clyde, and the dogs from All I Want for Christmas is a Cowboy. Fans of Jamie Beck, Cindy Kirk, and Sandy James will enjoy The Cowboy and The Baby.

Book Info:

Publication: May 7th 2019 | Berkley Books |
From New York Times bestseller Jessica Clare comes a contemporary Western romance about a cowboy who is in for the ride of his life…
Dustin is a ranch hand with a reputation around town as a ladies' man. He loves flirting and the thrill of the chase. When he tilts his cowboy hat just so, no one can resist his charms. It's all fun and games for Dustin until he meets a woman who sparks real feelings in him, and he's blindsided by love.
Annie is an animal trainer working on set for a film. Other than her furry, canine coworkers, she hasn't connected with the rest of the crew working on the movie. It's only when a certain cowboy catches her eye that Wyoming becomes interesting. She intends for their romance to be a fling, but by the time filming wraps up, she's unexpectedly pregnant.
While Annie is prepared to walk away and raise her baby by herself, Dustin isn't so ready to say goodbye. He has to prove to Annie that she has a future in Wyoming and capture her heart before it's too late.