In The Darkest King (Lords of the Underworld #15) by Gena Showalter, William may be known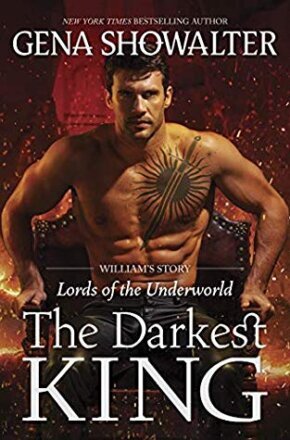 by many names: William of the Dark, William the Ever Randy, the Prince of Darkness, Son of Hades, the Panty Melter–you get the idea–but no one aside from Hades and Lucifer truly *knows* him. William has spent the centuries warring and carousing, not making many attachments aside from with the Lords of the Underworld. One major reason for that is the curse a witch placed on him years ago that will cause him to be killed by his true mate if he should ever fall in love. The cure? A book the witch gave him with a code no one has been able to translate. But when a drop dead gorgeous unicorn shifter named Sunday Lane crosses William's path, his future becomes even more tangled up when he learns she is the codebreaker he needs. And a female he can't resist–which has never happened to him before.
'William had just found a unicorn-shifter.
This was not a good turn. The unicorns of myth: 'Watch as I spread happiness across the land.' The unicorns of reality: 'I'mma kill you and dance in your blood.'
Sunny lives up to the dual personality of her unicorn shifter nature quite well. By day she is a talented codebreaker and the rest of her time she spends as a vigilante, hunting down poachers and evil beings who have done her race harm. So as a more than capable woman, Sunny can't believe that she gets held captive by William. Sure he's hot with a capital H-O-T. But as the son of Hades and brother to Lucifer, he should be number one on her hit list. Somehow, though, as Sunny gets talked into helping William translate his curse's antidote, she realizes there might just be more to the smokin' hot (pun intended) prince of Hell than she first assumed. And that makes him even more dangerous–to Sunny's heart and her life.
'Eyes glittering with menace, expression raw and brutal, he was the incarnation of war, the epitome of sex and the king of violence, savagery and carnality. A single glance threatened to ruin her for life. No other man could ever compare.'
The Darkest King was an epic new installment in Gena Showalter's long-running Lords of the Underworld series that had me enthralled with the battle scenes, as well as laughing and happily sighing over the steamy but adorable pull between our perfectly paired hero and heroine.
'What William felt for Sunny wasn't just explosive. It was nuclear.'
Note: There was a bit of controversy after book 14, The Darkest Warrior, paired Gillian up with Puck–not William, whom a lot of readers thought would be her mate. But regardless of your personal thoughts on Gena's matchmaking, please no bashing of the books or the author. Thank you.
I'm definitely a fan of Gena Showalter's writing style. I know it's not for everyone. But I enjoy her quirky brand of humor and how she pairs it in this series with brilliantly written, almost gory, fight scenes that rival most fantasy flicks. I have to say that I was happily surprised with how much I ended up liking William–we've been waiting for his story!!–and that I really enjoyed his relationship with Sunny. I try to keep in mind with every new installment in a series as complex as this that the author runs the show and that it will all work out in the end as it should. So William ending up with Sunny instead of Gillian? I was interested to see how Showalter would make that work. And work it did.
Showalter sold me on sassy Sunny. I loved watching her take William down a peg or two and *definitely* enjoyed how Sunny kept him on his toes with her smarts and her own plans for them. Some might scoff at her being a unicorn shifter. But I thought all the little details Showalter added to the story about Sunny–and unicorn shifters in general–were fun and unique. And somehow it matched up rather well with William's over-the-top, highly sexual personality, which we learned much more about. He had depth to his character that I never imagined and I was pleased to see there was a kind(ish), caring (sort of) heart under all the swagger.
Sunny was a warrior herself so it was wonderful to see William wowed with her skills as a fighter and to realize that she could handle herself in most situations. Their romantic feelings, though, were complicated. Particularly since neither one trusted, well, anyone. Plus there was that pesky curse that could basically end one or both of their lives if they fell in love. So, yeah. Complicated. But by the end of the book I can honestly say that William and Sunny, to me, truly felt like they were fated to be a couple.
A seductive, snarky, fast-paced novel with an intricately woven plot, The Lords of the Underworld saga continued in grand fashion with The Darkest King. Definitely recommended.
Book Info:

Publication: February 25th 2020 | HQN Books | Lords of the Underworld #15
A merciless prince feared by all…
Cursed by a vengeful witch, William of the Dark will die if he ever falls in love—murdered by the woman who steals his heart. His lone shot at redemption is a book filled with indecipherable code. Break the code, break the curse. Now, centuries later, he's condemned to a string of one-night stands…until he finds the only woman in the worlds able to set him free.
A rare creature of myth and power…
One of the last living unicorn shifters, Sunday "Sunny" Lane works from the shadows as a cryptanalyst, on the run from assassins and poachers. Then the darkly seductive William abducts her, holding her captive in Hell. The closer they get, the more she hungers for his touch…and the stronger a mystical desire to kill him becomes…
Both forever doomed?
At war with his brother, Lucifer, and determined to become a king of the underworld at long last, William must resist the irreverent beauty who threatens his future. But every day Sunny tempts him more, his hunger for her unmatched. Will he risk his heart—and his life—or will the curse ensure his end?