The Deal by Clare Connelly is the last erotic romance in the multi-authored Billionaire's Club quartet.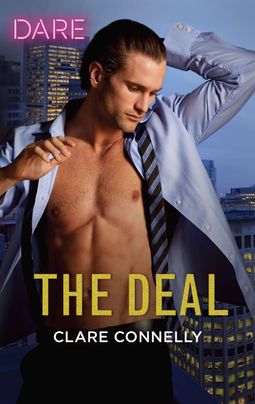 It's a fitting end to a fabulous series!
Imogen Carmichael has worked hard to make her worldwide exclusive billionaires clubs a success. But with all her time dedicated to the clubs and the charity she runs, she hasn't had any time for a personal life. For one night she wants to experience the passion she sees in her clientele and has picked the perfect man – Nicholas Rothsmore, a playboy member who'll give her what she desires with no questions asked.
Nicholas finds the tempting stranger who entices him into a one night stand a woman he can't forget. Masked and nameless, he has no way of knowing who she is and endeavours to track her down, with the help of the club owner. But when he meets Imogen to ask her to get in touch with his one-night woman he realizes almost immediately that she's the mysterious 'Miss Anonymous'! With her secret out, Imogen can confess that she hasn't been able to forget about Nicholas either. With an agreement to spend a few weeks together with no strings attached before Nicholas goes back home to England to fulfill his parents' wishes and find a bride, will they be able to ignore their quickly developing feelings for each other?
All the stories in this erotic romance series (The Debt, The Risk, The Proposition and now The Deal) have been very enjoyable reads. As the mastermind behind the clubs, Imogen has been a secondary character in the previous stories which all feature clients so it was great to see the woman who makes it all happen get her own happy ending.
Imogen's relationship with her parents is complicated. Though she's a part of Hollywood royalty, her down to earth grandparents taught her the value of hard work. With the money Imogen makes from the club, she sponsors a charity, Chance, to give at-risk kids the support they need, both financially and psychologically. It's in memory of her teenage friend Abbey who died in what might have been an accident or suicide after her parents' financial ruin. Imogen is willing to do anything for her kids and spends lots of time hands on with her charity. All her work at the club is done with the goal of benefitting her charity. Sharing that side of herself with Nicholas deepens their emotional bond.
Nicholas is an only child to older parents with a distinguished British lineage and he feels the burden of carrying on the family name. He's ready to accept his responsibilities now that he's turning 30 but he's been enjoying his years of freedom. After his surprisingly memorable night with Imogen, he knows he still has to move back home, but for a few weeks, he wants to enjoy his freedom and offers Imogen the time he has left for 'dating' and sex. She's quite willing to continue their relationship with that end date in sight, but something happens along the way – she falls in love with Nicholas. As Nicholas was left at the altar by a previous fiancee, he is wary of any kind of commitment and when Imogen reveals her true feelings, he backs away – only to have to fix his mistakes when he realizes what he's about to lose.
With some steamy sex scenes, really likable characters and a thoroughly satisfying happy ending, The Deal is well worth a spot on my keeper shelf.
Book Info:

Publication: Dec 01, 2019 | Harlequin Dare | The Billionaire's Club #4
In the final installment of The Billionaires Club quartet, British playboy billionaire Nicholas Rothsmore makes a deal that Billionaires Club owner Imogen Carmichael can't refuse—four weeks of pleasure!
One night of decadent, anonymous sex in the superluxe Billionaires Club—that was the deal. Then we would go back to our busy lives, free of entanglements. How could I have known it would be the most intense sex of my life? A night that left me with a gnawing need only she could satisfy…
Miss Anonymous wanted to remain that way. But as the Rothsmore heir, I've learned that money can buy pretty much anything…including the help of Billionaires Club and Chance charity owner Imogen Carmichael. I was beyond surprised when the hardworking, straitlaced entrepreneur turned out to be the same woman who'd donned a pink wig, stilettos and a mask and taken me to unexpected heights!
Now I'm offering her a new deal: in return for helping me enjoy my last four weeks of freedom before I assume my family duties and marry the most appropriate candidate, I'll educate her in the art of seduction, satisfying her every whim with four weeks of exquisite sex. Four weeks with the most intriguing woman I've ever met. Four weeks that will have to last a lifetime…