Thin Ice (Alaska Wild Mysteries #1) by Paige Shelton Is it suicide or murder in the town where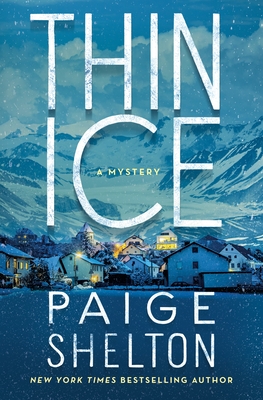 people go to be forgotten?
Thriller author Elizabeth Fairchild was kidnapped by a man who rang her doorbell while carrying a bouquest of daisies. This man held the author whose real name is Beth Rivers in his van for three days before Beth managed to escape. The escape resulted in a major head wound which necessitated brain surgery. Unfortunately Beth is suffering tempoary amnesia. She doesn't feel safe since the kidnapper has not yet been captured so she decides to sneak away from the hospital and hides herself in Alaska, far, far from home. She ends up in Benedict, Alaska.
The only place available for her to stay is Benedict House which also happens to be a halfway house for nonviolent women criminals. As Beth starts to acclimate to the new, very different, very rugged environment she becomes involved in looking into the death of a local resident. The death is declared a suicide but the police chief and the rest of the town residents don't believe it was a suicide. Beth steps in to help solve the mystery.
Thin Ice by Paige Shelton is a fast-paced mystery story. The author kept my interest as I read by throwing in enough clues to engage my curiosity. There are lots of interesting characters in the book as Benedict is known as an Alaskan town where people like to diappear to and no one asks questions. The interaction of the main character, Beth Rivers with the locals was intriguing as I tried to decide who was being honest with her and who was not. This is a gritty mystery story and I liked it a lot.
Book Info:

Publication: December 3rd 2019 | Minotaur Books | Alaska Wild Mysteries #1
First in a new series set in Alaska from beloved author Paige Shelton, Thin Ice will chill your bones.
Beth Rivers is on the run – she's doing the only thing she could think of to keep herself safe. Known to the world as thriller author Elizabeth Fairchild, she had become the subject of a fanatic's obsession. After being held in a van for three days by her kidnapper, Levi Brooks, Beth managed to escape, and until he is captured, she's got to get away. Cold and remote, Alaska seems tailor-made for her to hideout.
Beth's new home in Alaska is sparsely populated with people who all seem to be running or hiding from something, and though she accidentally booked a room at a halfway house, she feels safer than she's felt since Levi took her. That is, until she's told about a local death that's a suspected murder. Could the death of Linda Rafferty have anything to do with her horror at the hands of Levi Brooks?
As Beth navigates her way through the wilds of her new home, her memories of her time in the van are coming back, replaying the terror and the fear—and threatening to keep her from healing, from reclaiming her old life again. Can she get back to normal, will she ever truly feel safe, and can she help solve the local mystery, if only so she doesn't have to think about her own?