In Right Where We Belong (Silver Springs #4) by Brenda Novak, Finding out that her husband is basically a monster who preys on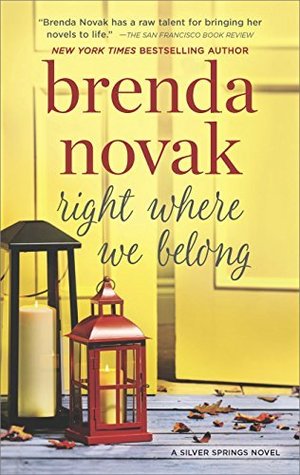 women shocked Savanna Gray to her core. Not only has it rattled her trust in, well, everyone, it's also driven her to file for divorce and move her two children to Silver Springs, California for a fresh start. She'll somehow renovate her crumbling family property with limited funds and support her kids through the transition. Savanna wasn't expecting to have a handsome neighbor step in to help. Or that his quiet, steady presence would help calm her and her children, teaching them to trust once again. But after she was such a bad judge of character with her ex, can Savanna trust herself to believe that Gavin is truly being sincere?
"I think I might be in trouble when it comes to you," she said softly.
The way he studied her let her know he understood exactly what she meant. "You don't have to worry. We're only having a drink. This doesn't have to go anywhere."
"What if I want it to?"
Gavin Turner could immediately tell upon their first meeting that Savanna and her precious children have been through something traumatic recently. Having lived through his own nightmarish past, he aims to help the single mom as much as he can without being intrusive. Days spent fixing up her dilapidated house and evenings of good conversation only proves to Gavin that there is a definite spark of attraction between them that's worth investigating. But as he learns of Savanna's husband's crimes and begins to help her sort through her life, someone from his own recent past complicates matters even more with their arrival, leaving Gavin to figure out how to achieve the future he's envisioned for himself and Savanna.
"But don't you think we're up against too much? Why would you ever be willing to jump into such a mess?"
He stepped closer, so he could cup her cheek with his free hand. "Because I think I could love you like I've never loved anyone else."
Right Where We Belong had everything I expect out of Brenda Novak's work: sweet romance, multidimensional characters, realistic drama, and a lovely HEA.
'Tragedy had a way of tempering people. Maybe that was why he liked her. They'd both faced unusual challenges.'
Possible trigger warning: Although there wasn't any graphic detail, the story does deal with rape, child abandonment, abduction, and murder.
Brenda Novak is on a roll with her Silver Springs series. And this latest installment packed in a ton of emotion along with a nice edge of suspense. So far I've enjoyed all the characters we've met and the townsfolk (for the most part), with the small town charm of Silver Springs completely apparent. With each new book the couples of course have had their problems to overcome. I have to say that Savanna and Gavin faced some huge obstacles in order to find their storybook ending. As always with Novak's stories, I think the adversity our hero and heroine faced down made their romance all the sweeter for it.
Speaking of our main characters, Gavin and Savanna, I ended up liking them quite a bit, both as individuals and as a couple. Savanna had just gone through the trauma of learning her husband was not the man she thought he was *at all* which was heartbreaking for her and her kids. She was one smart, tough lady, deciding to move to Silver Springs and renovate her family's home there herself with her two wonderful children in tow. The kids were great, actually, and added some extra depth to the story. I think some readers might find Savanna giving in to her attraction to Gavin as somewhat fast considering the time frame involved since she left her husband, but it felt right to me. And she did acknowledge it and fret over it being too soon through part of the book.
Gavin was a cool hero and a bit different from his other adopted brothers from previous books in the series. He was a musician (swoon!) and was mostly at peace with his troubled past. I loved that he was humble and patient and extremely caring. He could go all alpha male when called for, but Gavin was a guy sensitive to other's needs. And that was both a blessing and a curse, as it was easy for some to take advantage of his good nature. Mainly his ex-girlfriend. But in the case of his new neighbor Savanna, Gavin was just the right steady (and sexy) guy she needed in her life, as well as to show her kids that there really were guys who could be kind and treat others right. Unlike her ex-husband.
Right Where We Belong will definitely keep readers engaged and on the edge of their seat figuring out what will happen next to our tormented hero and heroine–who absolutely deserved to have something good happen in their lives.

Book Info:

Publication: October 17th 2017 | MIRA | Silver Springs #4
New York Times bestselling author Brenda Novak returns to Silver Springs with a moving story about rebuilding your life when you've got nothing left to lose
Savanna Gray needs a do-over. Her "perfect" life unraveled when, to her absolute shock, her husband was arrested for attacking three women. With her divorce settled, she takes her two children home to Silver Springs to seek refuge between the walls of the farmhouse where she was born. It needs a little TLC, but she's eager to take control of something.
Gavin Turner understands the struggle of starting over. Abandoned at a gas station when he was five, it wasn't until he landed at New Horizons Boys Ranch as a teen that he finally found some peace. He steps up when Savanna needs help fixing things—even when those things go beyond the farmhouse.
Despite an escalating attraction to Gavin, Savanna resolves to keep her distance. She trusted her ex, who had a similarly tragic background, and is unwilling to repeat her past mistakes. But it's hard to resist a man whose heart is as capable as his hands.