In The Devil In Denim (New York Saints #1) by Melanie Scott, Maggie grew up with the New York City baseball team the Saints and her father at the helm. She always expected to one day take over from her father, so she is blindsided when she finds out he's sold the team. Despite being just out of college and no experience, Maggie fully expected to be the one he turned to to run the team. But things are much worse than she knew, and now Alex The Devil In Denim and his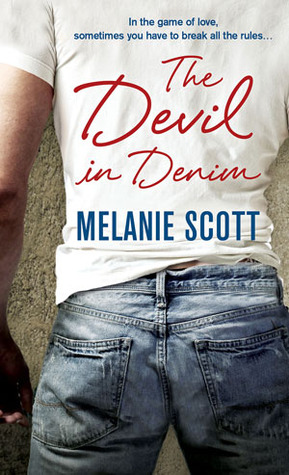 friends Mal and Lucas are almost the new owners. Maggie is definitely not happy about this turn of events, and places full blame on Alex.
To make the deal go through, Alex needs not only the support of the team and the league, but more importantly the support of Maggie. Despite her reservations, for the good of the team she decides she will support him – at least to outward appearances. When he also offers her a job, it's not the job of her dreams, but it will keep her with the team who she sees as her family. To Maggie it shouldn't be about the money, to Alex the business and money side is a very important part of running a successful baseball team.
Maggie sees Alex as the enemy but she can't resist him outside of the office. Alex tries to keep things just business between them, but it's impossible. Alex is dedicated to his business and able to separate business and personal emotionally. When Maggie can't she will need to decide just where her loyalties lie…and if Alex will be a part of her future.
Full of conflict (mostly Maggie's) and emotions that run hot and cold (Maggie again), The Devil In Denim was a well paced read that was entertaining enough to keep me reading to see how things would end up. I found it difficult to find any connection to Maggie. For a woman who is supposed to be a grown up and well educated, she really lacks maturity and insight. She has a really hard time taking a step back from her emotions to look at the other sides of things. Her misplaced anger towards Alex was very annoying at times. I understand her hurt, but her reaction to the events seemed a little unrealistic. I did like how Melanie gave us a look into Maggie's head with her self talks! I liked Alex and his friends. They have a history together and hope to make a better history together with the Saints. Alex is honest with Maggie, and open about how he is running the business. He tries really hard with her, is understanding, and fully intrigued with her. They do have great chemistry together!
There are quite a few secondary characters in The Devil In Denim, some more involved than others with some interesting sub plots taking place. I liked Maggie's friends and how they didn't pussy foot around her!
The Devil In Denim didn't have a lot of sports action in it but it is definitely baseball themed, and if you like that plus a turbulent romance you'll enjoy The Devil In Denim.
Book Info:

Published August 26th 2014 by St. Martin's Paperbacks | (New York Saints #1)
Life Just Threw Her A Curveball.
As the team-owner's daughter, Maggie Jameson grew up in the New York Saints' stadium—glove, cap, hot dogs, and all. Baseball's in her blood, and she's always dreamed of the day when she would lead the Saints to victory herself. That was before her dad had to sell the team to Alex Winters. The fast-talking, fiercely attractive businessman has a baseball pedigree that's distinctly minor league. Maggie wants to hate him but his skills of seduction, however, are off the charts.
Will Love Be A Home Run?
Alex could never have imagined how much this team means to Maggie. He needs her to help show the players that they're still a family…even if he and Maggie are at the verge of exchanging blows. But her fiery determination and gorgeous looks prove irresistible to Alex. And much as he wants to relegate their relationship to the playing field—and get the Saints back in the game—Alex just can't help himself: What he wants to win most is Maggie's heart…