The Devil of Downtown by Joanna Shupe is an exciting and passionate opposites attract romance.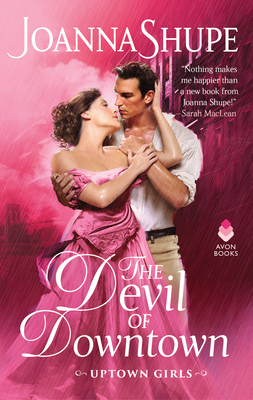 Think 'wrong side of the tracks' only in this case, it's wrong side of the city/society.
Justine Greene uses her position in New York's high society to help the less fortunate, working at soup kitchens, helping wives deserted by their husbands, and assisting with other legal aid ventures. When one of the derelict husbands that she wants to find turns out to be an employee of crime boss Jack Mulligan, she's not afraid or intimidated to seek him out.
Raised by a prostitute and orphaned as a pre-teen, Jack worked hard to make it to the top of the gangs in New York. He controls a considerable territory and plans to keep it that way. When do-gooder Justine shows up at his office with her request, he's willing to grant her this favour, but expects one in return. That favour? Escorting Justine to a high society fundraiser where he can meet up with an investor he wants for a brewery he's involved in, and the chance to export their product across the country. He needs a respectable entrance into the event and Justine can provide it, though it will come at the cost of her reputation. Since Justine doesn't care much for that anyway, she agrees though she knows her family won't be very happy.
One favour turns into another, and soon Justine and Jack are finding ways to spend time together out of the public eye. Their forbidden affair heats up just as things on the street start to get complicated, with a rival gang leader encroaching on Jack's territory. Will Jack lose everything or get his happy ever after?
I've been enjoying this series from the start and Justine's romance with Jack is a fitting end! It's your classic good girl/bad boy trope story, set in the Gilded Age of New York City and as with the other stories in the series, the setting is well described and interesting especially if you're a reader of historical romance who has been looking for a different time period than the Victorian or Regency romances that tend to prevail in the market.
Jack is unique in his attitude towards women compared with the other men of his acquaintance due to his upbringing with his mother in a whorehouse. He is respectful of women, doesn't operate any bawdy houses in his territory and doesn't mind helping Justine with her missions, reigning in deadbeat dads and sweatshop factory bosses. He's got a kind heart, though he has no problem using his knuckles against abusive men. It's that side of his personality that attracts Justine even though she knows that he is bad for her and that her parents, vacationing in Europe during the story, will definitely not approve of their relationship when they find out.
What Justine really appreciates about Jack is that he respects her opinions and her choices and doesn't try to change her, unlike her sisters who are over protective and still see her as their little sibling instead of the grown, opinionated woman that she is. Their concern over her relationship with Jack rings a little hollow considering their own life choices (books one and two in the series detail those equally passionate and entertaining romances with partner choices that their parents weren't thrilled about either). But Justine is determined to stand on her own and continue her work with the less fortunate, and to see Jack at every opportunity. Jack is very experienced with women while Justine is a virgin and his slow wooing of her leads to some sexy love scenes.
When things start to take a violent turn, Jack has to decide what to do, and how to protect Justine. His choices affect them both, and lead to some surprising decisions and eventually their happy ending. It's a great finale to the series and I highly recommend reading them all! I can't wait to dive into more books by this author.
Book Info:

Publication: June 30, 2020 | Avon | Uptown Girls #3
Manhattan kingpin.
Brilliant mastermind.
Gentleman gangster.
He's built a wall around his heart…
Orphaned and abandoned on the Bowery's mean streets, Jack Mulligan survived on strength, cunning, and ambition. Now he rules his territory better than any politician or copper ever could. He didn't get here by being soft. But in uptown do-gooder Justine Greene―the very definition of an iron fist in a velvet glove―Jack may have met his match.
She wears hers on her sleeve…
Justine is devoted to tracking down deadbeat husbands and fighting for fair working conditions. When her mission brings her face-to-face with Jack, she's shocked to find the man behind the criminal empire is considerably more charming and honorable than many "gentlemen" she knows.
Forming an unlikely alliance, they discover an unexpected desire. And when Justine's past catches up with them, Jack may be her only hope of survival. Is she ready to make a deal with the devil…?