In The Rivals by Vi Keeland, Given the complex history between the Sterling and Lockwood families,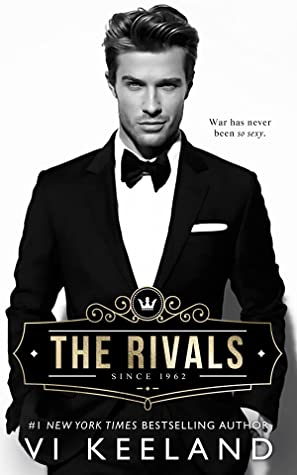 Sophia Sterling was predestined to be an enemy of Weston Lockwood, with no chance of getting along. Well, except that one time… which we won't get into. But now Sophia and Weston are sent on assignment to the New York City hotel their families recently found out they co-own. And it's their job to make sure that their family puts in the best bid to win full ownership of the historic hotel. Sounds fairly simple, right?
'Everything about the two of us was complicated. Our relationship had been destined to be difficult before we were even born.'
There's just one problem. Sophia and Weston's attraction is stronger than ever. And when it is at its strongest is when they argue–which they do. A lot. Now is not the time for Sophia to figure out that what began as raw lust has now started to turn into real feelings. Not when her family is counting on her to keep things strictly professional and win the war against the Lockwoods. And Weston knows when the truth about his past comes out, it could change everything between himself and Sophia. Which would be a shame, considering the promise of something more they've just found together.
'But the truth of the matter is, sometimes we just act on instinct like an animal. And Sophia damn Sterling has the uncanny ability to bring out the savage in me.'
A delicious enemies-to-lovers romance with the kind of sexy banter and antagonistic teasing that made me fan my face while laughing out loud, The Rivals just might be my favorite Vi Keeland book to date.
'Apparently some deep, dark part of me got off on arguing with this man. If Weston and I got along, I might have a better chance of not ending up with my panties around my ankles.'
Holy hotness!! Vi Keeland was on fire with this standalone romance. It had a little bit of everything for readers: family history and feuding which led to Weston and Sophia being enemies; office romance, as they were battling each other to finish the hotel's valuation and outbid the other; there was hidden depth with both Sophia's and Weston's backgrounds; and angry sex. Lots and lots of angry sex which was ridiculously fun and sensual. (And even with a bit of kink)
I had a great time getting to know our couple, who were an absolute riot together. We did get alternating POVs–the majority of which was Sophia's–but it made it quite interesting to see how their family history affected them since childhood and shaped their paths in life. Sophia was quick on her feet while dealing with arrogant (but lovable) Weston at the hotel where she tried so hard to stay professional. After hours, though, that was a different story. Every argument seemed to lead to nookie of the angry variety and boy was it hot! Seductive Weston was the instigator more often than not, which made me wonder about his intentions until we got more of his own personal story. That was when I truly began to cheer Sophia and Weston on to ignore the bad blood between their families and just go for what *they* wanted instead. (Hint: they did!)
Vi Keeland always brings the heat, but The Rivals pushed things to a whole new level. Incredibly entertaining and down right dirty, I fell in love with Weston and Sophia as they fought their attraction while hitting family drama at every turn. Highly recommended.
Book Info:

Publication: July 13th 2020 | C. Scott Publishing Corp. |
A new, sexy standalone from #1 New York Times Bestseller, Vi Keeland.
The feud between Weston Lockwood and me started at the altar.
Only neither of us attended the wedding, and the nuptials happened decades before either of us was born.
Our grandfathers had been best friends and business partners, at least up until my grandfather's wedding day—when his bride-to-be blurted out she couldn't marry him because she was also in love with Weston's grandfather.
The two men spent years fighting over Grace Copeland, who also happened to be their third business partner.  But in the end, neither man could steal half of her heart away from the other.
Eventually, they all went their separate ways. Our grandfathers married other women, and the two men became one of the biggest business rivals in history.
Our fathers continued the family tradition of feuding. And then Weston and I did, too.
For the most part, we kept as much distance as possible.
Until the day the woman who started the feud died—and unexpectedly left one of the most valuable hotels in the world to our grandfathers to share.
Now I'm stuck in a hotel with the man I was born to hate, trying to unravel the mess our families inherited.
As usual, it didn't take long for us to be at each other's throats.
Weston Lockwood was everything I hated: tall, smart, cocky, and too gorgeous for his own good.  We were fire and ice.
But that shouldn't be an issue. Our families were used to being at war. There was just one minor problem, though. Every time Weston and I fought, we somehow wound up in bed.