The Devil's Own Duke by Lenora Bell is the second book in the Wallflowers vs. Rogues series by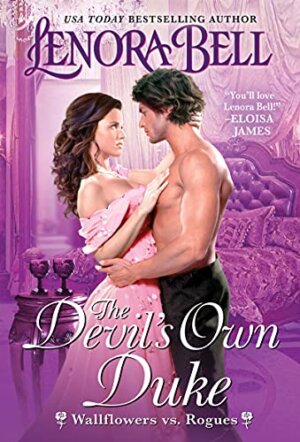 Lenora Bell. It's an enemy to lover's romance containing some light intrigue, plots, lies, and deceptions.
Lady Henrietta "Hettie" Prince immersed herself in expanding her mother's vineyards after she died. She is determined to prove the Rosehill Vineyard's sparkling wines are just as good as French champagnes.
After her first season, she returns to Rosehill, her beloved home, where she decides to become a spencer and gives up on finding a husband. Unfortunately, she is the only child of the Duke of Granville and her future will rest in the hands of the unknown heir to the dukedom. She convinces the duke to have a ball in London so her father can find a bride and provide an heir. The ball brings back memories of her first ball and before she knows it, she is kissing a stranger on the balcony. Only to learn that the stranger is claiming to be the heir to the dukedom and wants to build a stable for racehorses where her precious vineyard is located.
Ash Ellis, known as The Devil's Own Scoundrel by society, spent his childhood just trying to survive after becoming an orphan. He worked under harsh conditions until he and his friend Jax joined John Coakley's group of thieves. Coakley promised a better life but soon they realized it was worse than the factories. Now he is the owner of a notorious gaming house and wants a title with the power to change England labor laws for children. After it is announced he is the heir, Hettie agrees to marry him if he will give her six months to show him the vineyards can make a profit.
Ms. Bell's books are always entertaining and have charming characters, but this book was somewhat disappointing for me. The book was written well and the author's knowledge of the wine-making process was obvious. I found the book to have too much modern slang and terminology. One such example was one of Hettie's friends saying "it's 5 o'clock somewhere." When I read a historical romance, I want it to be true to the time period it was supposed to take place in. The tone of the dialogue was very dramatic, and the storyline was not realistic. An heir would never be decided by a birthmark and declared valid by a lawyer and the duke, especially when it was so far on the family tree. That would never have happened. Unfortunately, I was disappointed but if these things do not bother you then this would be a good book.
Book Info:

Publication: September 28, 2021 | Avon | Wallflowers vs. Rogues #2
Lady Henrietta Prince is far too busy for romance. She's dedicated her life to turning her family vineyards into a profitable sparkling wine venture. But when she shares a thrilling kiss at midnight with a handsome stranger, she's captivated…until he claims to be the distant heir to her father's dukedom.
Ash Ellis is a gambler who lives life on the edge. Now he's locked his sights on a glittering prize and nothing will stand in his way.
When Henrietta is forced to marry the wicked rogue to keep her beloved vineyards, she vows that Ash will never have her trust, or her love. Even if his kisses are more intoxicating than the finest champagne.
His new bride is certainly beautiful, but biddable? Not so much. Ash will settle for nothing less than Henrietta's total surrender…but is he the one in danger of losing his heart?