The Do-Gooder by Jessie L. Star: Three years ago, Lara's brother lost his fight to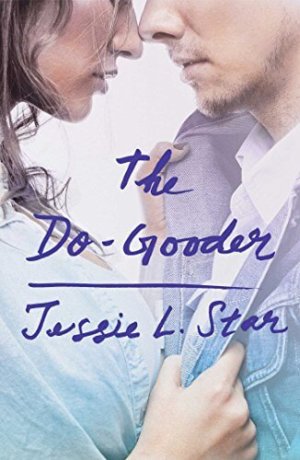 cancer the same moment she seduced and had an affair with her not so single brother's best friend, Fletch. Since then, Lara began her Do-Good project. Anyone can ask her to do one good deed for them, and she'll do the best possible job of making it happen.
But Fletch has a bit of a problem with Lara's do-gooder deeds, leading to many confrontations on their college campus. Not only do her deeds keep their one misdeed in the forefront, no one seems to see what he does in her deeds, that it allows Lara to ignore her own pain and self.
As Fletch gets drawn in to one of her deeds, the tension that has always been between them finally explodes. Exposing a whole lot of truth, pain, and, best of all, love. But can they accept all that has come between them?
I really loved The Do-Gooder. It's an interesting idea, very well-developed, and I truly believe in these characters. Both Lara and Fletch have dealt with a whole lot of pain, and for many years they let it drive them apart – and in Lara's case just plain ignore it to the detriment of herself.
And, although it definitely had its angst, it didn't feel too over-hyped or overblown. It felt more real, and watching them truly struggle through it only made me love both Lara and Fletch. If any couple needs to be together it's this one. The much-discussed tension between them was passionate and palpable. I wasn't always sure whether they could actually work it out, and Star definitely brought me through some twists to get to that happy ending.
A passionate story, one of romance and redemption, I highly recommend The Do-Gooder for New Adult fans – especially because it has the angst and drama without feeling too overbearing or fake.

Book Info:

Publication: February 20, 2017 | Pocket Star |
A college girl tries to make up for her bad karma by doing one good deed for anyone willing to ask—a witty, sweet romance perfect for fans of Christina Lauren and Abbi Glines.
Lara Montgomery is no good. Having been scorned by her classmates since high school, she's used to it. From where she's sitting, the one with more notches on the bedpost has more fun anyway. At least, that's what she tells herself.
Really, a small part of her hopes that her massive amounts of bad karma can be neutralized by wearing her Do-Gooder hat—that thing she does where she'll complete one good deed for anyone who asks. And she does an amazing job at it, if she does say so herself. Still, there's one thing she knows she can't make better, no matter how many problems she solves for other people: on the night her brother died, she was off hooking up with his not-so-single best friend, Fletch.
It's been three years since that night, and Fletch just wants her to let it go. To him, her persistence with the good deeds only serves to remind everyone in their small university town about what they did. As it is, they can't help but get into a heated argument every time they run into each other on campus. And yet, neither of them can seem to stop that pesky electricity that runs between them whenever they get too close….