The Doctor She Should Resist by medical romance queen Amy Ruttan is the first of two stories in the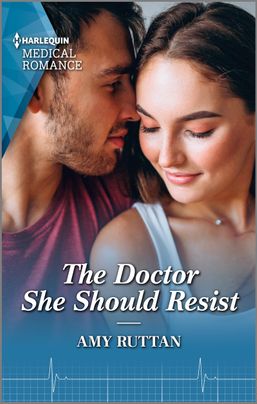 Portland Midwives Mini Series. Introducing Midwife Hazel and Dr Caleb Norris. Hazel is the storm that shakes up Caleb's world.
Midwife Hazel is furious when she first lays eyes on Dr Caleb Norris across the table at a mediation hearing. He is the head of obstetrics of St Raymond's, and there to oppose the opening of a birthing centre Hazel is planning to open. He's the most gorgeous man she's ever laid eyes on but not the most convenient time to feel attracted to someone.
Six months later when Caleb needs her help with a very special patient with a very special condition; the two grow closer. Despite past heartbreaks, tragedies and losses; Caleb and Hazel grow closer. But a new tragedy threatens to derail them leaving Caleb to wonder if they will be the family he realises too late, that he would love them to be.
Amy Ruttan is a firm favourite because she creates real characters with solid situations that are easy to loose yourself in. The momentum is fast paced and heartfelt with a side of emotional warmth. The Doctor She Couldn't Resist delivers (no pun intended) all the good stuff. The medical emergencies are exciting and realistic. The love feels real. Such a beautiful first instalment and I'm very much looking forward to Book 2.
Book Info:

Publication: June 2022 | Harlequin Medical | Portland Midwives #1
The last thing midwife Hazel is looking for is a relationship. So why is she so drawn to Dr. Caleb? Especially when he's from the rival hospital that delayed the opening of her birthing centre. Enigmatic Caleb knows just how to push all of her buttons…but for all their differences, sparks of chemistry soon start to fly! Although with Hazel's heart already damaged, can she believe that Caleb will be the one to heal it?
Portland Midwives
Book 1: The Doctor She Should Resist by Amy Ruttan
Book 2: The Midwife from His Past by Julie Danvers