Jock Wanted by Kate Meader: Tara Beck is in the market for a husband, preferably a rich hockey player that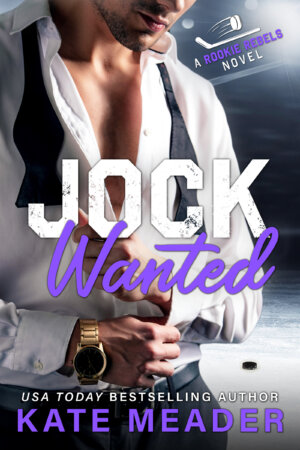 can take care of all her needs, so when she learns that the Rebels have a PR nightmare on their hands and need help with rehabbing Dex's image she thinks this just might be her opportunity to get herself in on the rich husband front…the only problem being one grouchy GM Hale Fitzpatrick. It would seem that Hale is going to pose a whole lot of problems for Tara and her great plans of landing herself a hot rich player, starting with very real and very inappropriate attraction burning between them.
Fitz is focused on making sure that his team is on the road to the champions so the last thing that he needs now is to have to keep an eye on some money hungry gold digger eager to get her hands on one of his players, but when one of the newbies causes a major media stir he has little to no choice but entertain the idea of having Tara help rehab Dex image. The only thing that Fitz couldn't take into account were these feeling developing between him and Tara, she should be the absolute last person that he finds himself being drawn to but there is just something about her over the top bubbly personality that keeps pulling him back. But can anything actually come off this attraction bubbling between them?
"I knew you were the one I wanted, the one I dreamed of and hoped for, before I even met you."
I have just been loving the Rookie Rebels series to bits and Jock Wanted was easily my favourite book of the lot. There is just something about the opposites attract trope that always gets me and this was definitely the case with Hale and Tara, gosh these two just packed in all that angsty goodness in buckets! There was just something so incredibly satisfying about following Tara and Hale as they figured out that happily ever afters come from the least expected places.
Gosh, Tara girl you just broke my heart! Our girl really has had her fair share of hardships but she still managed to pick herself up and keep a smile on her face while trying to secure a comfortable future for her sister and herself. For all her airhead gold digger facade she was a total sweet heart just looking for a place to belong. I think it's safe to say that Tara was one of the best heroines that we have had in a while, between putting the needs of other before her own, her self doubt and her general kindheartedness it was hard not to find myself rooting her on as she figured out that she is worthy of true happiness and love.
"Look at me like that forever. Like I would hang the moon for you. Because I just fucking might."
Oh sweet Hale, this guy was just something all on his own, it was pretty hard not to find yourself swooning at this big ole softie try to protect his team while trying to fend off his undeniable attraction to Tara. I loved getting to see him interact with some of our old favourites with their weekly Rebels powwow and that the guys ultimately helped him realise that he has to fight to win Tara back, talk about swoony right there! Hale was pretty much a sweetheart with this tough exterior, I loved getting to see him with his nieces and then with Chloe, he was so gentle and caring. Also I just loved that Hale used to get so jealous each time Dex tied to get close with Tara even though it was all for publicity.
The chemistry and tension between Hale and Tara was insanely hot! I loved their back and forth banter and that they constantly pushed each other. Even when they were trying to keep each other at arms length they just couldn't resist falling back into each other and I just loved this! I really liked getting too see them both opening up to each other and helping support each other in a way they both never allowed anyone else. Especially with the entire Chloe thing, I think Hale handled this like a true hero, by not only trying to bond and build a connection with some so important to Tara but also to try an elevate the load she has had to carry on her own.
One of the thing that I love about this series is that everyone is so linked and the Rebels really are just one big family. I loved that they each were there to support each other. I must say that I really loved getting to see Tara build a bond and friendship with each of the Rebels as she found a place in this makeshift family unit. As for Dex well there is definitely a story brewing there and I can not wait to see what Meader has planned for next! Also how cute were Goober and Pickle!!
Jock Wanted is a total and must read this was hands down the easies five star rating that I have ever given. If you are looking for a sports romance with some work place romance thrown in to the mix with a side of will they or won't they angst then this is most definitely the book for you!
Book Info:

Publication: June 14, 2022 | Pub: Kate Meader | Rookie Rebels #6
She has her heart set on a hockey player.
Any hockey player.
When the new general manager of the Chicago Rebels tasks Tara Becker with faking it with one of his players to help clean up the naughty jock's act, she's all over it. She'll make that misbehaving hunk of muscle look good and get her dream guy into the bargain.
Only the path from fake to real is riddled with thorns . . .
New Rebels GM Hale Fitzpatrick thinks ditzy blonde and wannabe WAG Tara is the perfect solution to his PR problem – until she isn't. Soon Fitz realizes that maybe he doesn't have control of the strings after all . . . especially when he starts to fall for his pretty little puppet.
A fake relationship hockey romance – with a twist!