Today, HJ is pleased to share with you

Jill Shalvis's

new release: 

The Friendship Pact

New York Times bestselling author Jill Shalvis returns to Sunrise Cove with a powerful, moving story about a young woman on a quest to find the truth about her father who learns the meaning of true love along the way.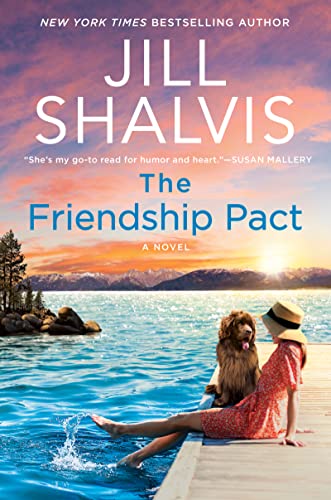 Alone in the world, Tae Holmes and her mother April pretty much raised each other, but as Tae starts asking questions about the father she's never met, April, for the first time in her life, goes silent. To make matters worse, Tae is dangerously close to broke and just manages to avoid financial meltdown when she lands a shiny new contract with an adventure company for athletes with disabilities and wounded warriors.
Her first big fundraiser event falls flat, but what starts out as a terrible, horrible, no-good night turns into something else entirely when Tae finds herself face-to-face with Riggs Copeland. She hasn't seen the former Marine since their brief fling in high school, and while still intensely drawn to him, she likes her past burned and buried, thank you very much. Hence their friendship pact.
But when April oddly refuses to help Tae track down her father, it's Riggs who unexpectedly comes to her aid. On a hunt to unlock the past, the two of them find themselves on a wild ride and learn a shocking truth, while also reluctantly bonding in a way neither had seen coming. Now Tae must decide whether she's going to choose love … or walk away from her own happiness.

I hope you enjoy this excerpt from The Friendship Pact, and I hope you get to read great books this summer!
Her place was small, the furniture sparce but warm and cozy. Feminine. Her couch was a soft gray corduroy with neutral toned pillows piled on. The scarred hardwood floors revealed the well-worn paths to the hallway, and, he assumed, the kitchen.
That was where he found her, pulling vodka from the freezer.
"Medicinal," she said, and took a sip right from the bottle, then handed it over to him.
He took a shot that burned a path down his throat, then handed it back with a nod. "It's a good start. First aid kit?"
She headed down the hall, vodka in tow.
He followed her to a bathroom the size of a postage stamp. She stared at the pair of them in the mirror and gave a rough laugh. "We look like we were in a bad horror flick." She set the vodka on the counter and bent to the cabinet below the sink, pulling out a first-aid kit. "Now what?"
He patted the tiny counter top space between her medicine cabinet and the sink.
"We going to play doctor?" she asked with some amusement.
"I don't play."
With a roll of her eyes, she pulled herself up to sit.
Stepping close, he nudged his suit jacket from her shoulders, letting it fall behind her so that it still kept her warm from the waist down. He smiled down at the dress. "I really do like your new look." He waited until she met his gaze. "But I liked your old look too."
She snorted. "You liked the all black emo-girl thing?"
"I liked you."
That had her going quiet, and he smiled. "Besides, it wasn't all black. You had blue streaks in your hair. Sometimes purple."
"Good times." But she gave a reluctant smile. "I don't think about those days very often. Not exactly happy memories, you know?"
Yeah, he did, and that one night they'd had was the highlight of all of his growing up years. He drew a deep breath and looked her over.
She had shallow cuts along her right side where she'd landed taking down the kid. Her arm, her hand, her neck, and eyebrow. He cupped her face and looked into her pupils.
At his touch, she sucked in a breath and the air between them seemed to shift. "I'm fine," she said.
Her pupils backed this statement up, so he opened the first aid kit, pulling out the antiseptic and clean cotton. Then he went to work inspecting every single cut for glass before deep cleaning and covering each one. She sat there stoically, wincing occasionally as he worked, not saying a word or making a single complaint. The guys he'd served with would certainly be whining, but not Tae. She seemed reflective, and … vulnerable? Maybe because, like him, no one took care of her but her. The thought made his heart hurt for her. The last cut, the deepest one too, was on her right biceps. "This one could use a few stitches."
"Just slap a band aid on it, it's fine."
"Chicken," he teased.
"Do you have any idea how much an ER visit costs?"
That shamed the smile right off of him. While he worked, she pulled her things from her bra and set them aside. Somehow that seemed to bring him back the danger they'd faced tonight.
As if she'd gone there too, she looked at him. "Seriously, no weapon?" she finally asked.
He shrugged. "Didn't think I needed to carry in Sunrise Cove. Besides…" He held up his hands and wiggled his fingers. "These are multi-use tools of mass destruction."
"Don't I know it," she muttered.
"Is that supposed to mean something?"
"You know damn well those hands once coaxed me right out of my undies."
He laughed. "Which, by the way was the only thing you left behind in your wake."
Excerpt. ©Jill Shalvis. Posted by arrangement with the publisher. All rights reserved.


Giveaway:

An ARC of THE FRIENDSHIP PACT by Jill Shalvis, a friendship bracelet, and a silver heart frame. (US only)
To enter Giveaway: Please complete the Rafflecopter form and post a comment to this Q:

What did you think of the excerpt spotlighted here? Leave a comment with your thoughts on the book…
Meet the Author:
New York Times bestselling author Jill Shalvis lives in a small town in the Sierras full of quirky characters. Any resemblance to the quirky characters in her books is, um, mostly coincidental. Look for Jill's bestselling, award-winning novels wherever books are sold and visit her website, jillshalvis.com, for a complete book list and daily blog detailing her city-girl-living-in-the-mountains adventures.
Connect with Jill Shalvis:
Website: www.JillShalvis.com/
Facebook: @JillShalvis
Twitter: @JillShalvis
Instagram: @JillShalvis