In The Doctor's Cinderella by Susanne Hampton, Nurse Molly Murphy has been struggling ever since her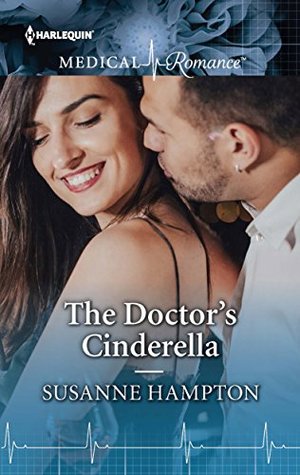 ex left her penniless. However, now she's found a good job working as an admin for Dr. Ryan McFetridge. Knowing she should keep her distance from Ryan because she can't afford to get hurt again like she was by her ex, she somehow finds herself saying yes when he asks her to a charity ball. Will Molly and Ryan take a chance on each other or do their trust issues run too deep to ever consider a forever relationship?
"Good, you get your award. I want to see it," Lizzy said, then took another spoonful of the hearty soup. "And Molly can wear the princess dress. She looks pretty."
"And Molly is?" Ann enquired with a knowing smile and sparkle in her eyes.
"My temp office manager."
"And a pretty office manager by the sound of it. Princesses are always pretty."
Ms. Hampton pens a good read in this book where both the main characters have trust issues after everything they've been through in their pasts when it comes to relationships; and where both are determined to do right by the people that need them; people such as the hero's daughter and the heroine's brother, so there's no way they have time for a relationship. The way this story started had me smiling, as the heroine isn't very organized when it comes to getting to work on time and I couldn't help but laugh at what she realizes once she gets to work when it comes to her outfit. Will she make it to work on time? Will her boss notice what she's done when it comes to what she's wearing? However, it was from the moment the hero and heroine come face-to-face for the first time where this story gets very interesting, as Molly likes her new boss, but is determined to keep things professional between them. How could she ever put her trust in another man after the last one left her penniless?
As for the dialogue, it was intense due to the main characters back stories, but I loved their growing relationship, as Ryan is completely different to anything Molly ever thought he was. Moreover, both have done all they can to move forward with their lives and bounce back from the hurt of their past relationships. With the heroine, she's strong and brave in the way she picked up the pieces of her life after what her ex did and I liked how determined she was to take care of family, even if it means taking a different turn in her career in order to be there for her brother because he needs her. While the hero, he's a good dad, confident and I liked how determined he was to help the heroine, which is proven by what he does for her because she's really good at her job and he doesn't want to lose her. However, there are moments where I think the hero is too protective of his daughter, even if I could understand why because she has a selfish mother and hasn't had the easiest time in life.
"And what would make the other McFetridge happy?" she asked with her head tilted slightly.
Ryan looked at her standing in front of him, with her hair a gorgeous mess around her beautiful face and a dressing gown that had seen better days hiding the body he had loved that night they had shared together. "I would be the happiest man alive if I could have you back in my life. Not for a night, not for a month, but for ever. Waking up to your beautiful face every day and telling you how much I love you is all I will ever need."
Overall, Ms. Hampton has penned a good read in this book where the chemistry between this couple was strong from the moment they come face-to-face for the first time; the romance was heart-warming and had me loving that these two take a chance on each other; and the ending had me surprised by the hero's reaction to the secret the heroine was keeping from him because shouldn't he be happy for someone he loves instead of overreacting to such news. However, in saying that, I loved the way things worked out for the hero and heroine because they've both found the love they deserve. I would recommend The Doctor's Cinderella by Susanne Hampton, if you enjoy medical romances, the friends to lovers trope, workplace romances, Cinderella-like stories or books by authors Annie O'Neil, Alison Roberts, Sue Mackay and Dianne Drake.

Book Info:

Publication: June 18th, 2018 | Harlequin Medical |
One magical night…could change their lives forever!
After her ex leaves her penniless, nurse Molly Murphy takes an admin job in Dr Ryan McFetridge's practice. Then when Ryan needs a date for a charity ball, Molly finds herself wearing a gorgeous gown and sipping champagne for one sparkling night. But her Prince Charming guards his emotions closely. Do they dare trust what's in their hearts and find their own fairytale ending?