The Double Deal by Catherine Mann: Thinking and planning were a good and predictable thing, something folks got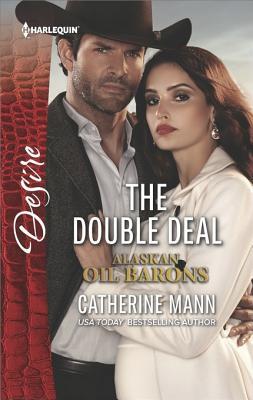 used to, so when they do the unexpected well everything seems to just fall into crazy land.
Naomi Steele was used to portraying the crazy one in her personal life. As a lawyer her professional life was a different matter. In reality she valued control, she needed it. So why all of a sudden did she need to prove herself? Why was she going off and doing these crazy things? What's more, why was everything else seemingly falling part now that she was?
Royce Miller was a controlled person, a scientist and he believed in seeing things all the way through no matter what. Distractions were something he didn't have time for, until one in a pink parka landed in his lap. Now he knew something wasn't quite right but what was he willing to give up to figure out what exactly it was?
Royce and Naomi end up stranded together alone in an Alaskan blizzard when chemistry wins over obligations. However as the snow starts to melt and stories and real life starts to crumble will they be building a foundation together?
The Alaskan Oil Barons is a series that is taking some interesting turns for Ms. Mann. The families that she has presented continue to grow and fuel a need to learn more and understand more about them. While this is a romance and a great one at that this novel delves more into the familial unit and relationship process. This is something unexpected while being something more worth while than most that have come out recently. Do yourself a favor, pick up this one and then think about your own familial relationships.

Book Info:

Publication: March 1st 2018 | Harlequin Desire | Alaskan Oil Barons #2
Snowbound with a sexy stranger…Will sharing his bed destroy her plans or lead to forever? Naomi Steele knows it's sneaky to sleep with Royce Miller without revealing her true identity. So is neglecting to mention she's pregnant. Still, being stranded with the reclusive scientist provides the perfect opportunity to convince him to work for her family's company. Yet once the snow melts and the truth is revealed, Naomi could be dealing with double the trouble… USA TODAY bestselling author Catherine Mann