The Duchess in His Bed by Lorraine Heath is the fourth book in A Sins for All Seasons series. I haven't read any of the other books in the series,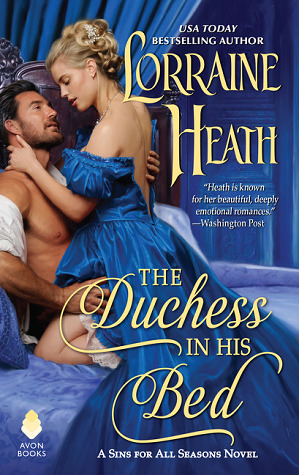 but I think it would have helped to understand the Trewlove familie's history if I had.
The Earl of Elverton had several illegitimate children that he had sent to be killed in "baby farms". Aiden Trewlove was one of his children that he had given to Ettie Trewlove. Aiden was raised with 6 other "siblings" and they had a very strong bond between each other. He owned several gaming hells but the Elysium Club was for ladies only. Aiden was determined not to be like his real father and have illegitimate children and he never became involved with the ladies visiting the club. He was captivated with Selena the moment he saw her enter the club and was not about to let one of his employees show her around the club.
The Duchess of Lushing, Selena Sheffield, had just lost her husband and unless she was with child, the funds and estates were going to be transferred to the Crown. Her brother, Winslow, convinced her to visit the Elysium Club and conceive a child while it could still be considered Lushings. Even though she felt guilty for the deception, she needed to have a child to keep her status as Duchess so she could help her sisters make good matches and to provide them with a dowry. As Aiden's seduction progresses, Selena struggles with her growing affection for him. Aiden realized he couldn't be a part of her public life due to his illegitimacy but he couldn't keep from wanting a future with Selena.
Selena had several hard choices she had to make. Should she continue with the deception of trying to secretly conceive a baby and did she really want a future without Aiden?
This was a great book and once I started reading it I couldn't put it down. It was well written and had wonderful characters. I loved how Aiden and Selena were committed to their siblings and willing to make sacrifices for them. I am definitely going to read the previous books in the series and can't wait to read Fancy's story.
Book Info:

Publication: August 20, 2019 | Avon | A Sins for All Seasons #4
For a duchess with practical desires, falling in love is an inconceivable part of her plan…
As owner of the Elysium Club which caters to women's fantasies, Aiden Trewlove is accustomed to introducing adventurous ladies to sin and vice. But he is uncharacteristically intrigued by the mysterious beauty who visits his club one night, yearning to indulge in the forbidden—with him. Drawn to her indomitable spirit, he breaks his rule of never becoming personally involved with his clientele and is determined to fully awaken her desires.
A recent widow, Selena Sheffield, Duchess of Lushing, has never known passion, not until Aiden's slow, sensual seduction leads her on a journey of discovery and incredible pleasure. But her reasons for visiting the notorious club are not all that they seem.
As Selena's motives become complicated by love, she finds herself with a most unexpected choice: forge ahead with a secret plan that could secure her future—or follow her heart which could prove ruinous.