In The Trouble with Mojitos by Romy Sommer, Kenzie Cole is a single and beautiful location scout. Now she is on the lookout for locations to film an upcoming film production. She has not had an easy life and her troubles are not what you'd expect.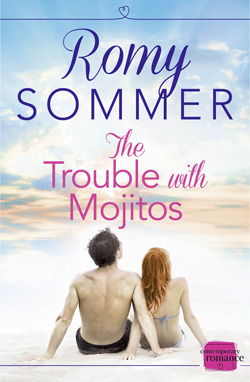 Fredrik is an exiled prince, only he exiled himself, he was raised and groomed to become the next king, but a secret that came to light changed his life forever. Now he spends all his time in Los Pajaros drinking himself to oblivion trying to forget his past and mourning it at the same time.
When Kenzie meets Rik at a bar in Los Pajaros they strike a deal where he will help her with scouting the locations she needs. But the chemistry between them is high and undeniable. They begin a relationship thinking this will be fling, but soon they will find out that a fling will not be enough.
With Kenzie by his side, Rik will face his past once again, but Kenzies past secrets may change things a bit. But Rik will need to be more strong and determined if he is to keep Kenzie by his side forever.
This is the second book in a series, but believe me, I did not feel left out. I liked that the island where Kenzie and Rik met and fell in love is shrouded in a little myth and mystery with stories of pirates and curses. Romy Sommer did a great job describing the setting so well, that I felt like I was actually there. The twist in the ending was a little out there and left me wanting a better happy ending but I liked that it was resolved in the epilogue, even if I would have liked to see how the wedding took place. But I will definitely look forward to reading the next book in this series.
For a fun, sweet and passionate read, don't miss The Trouble with Mojitos by Romy Sommer.
Book Info:


 October 17th 2013 by HarperCollins UK, HarperImpulse
Turquoise blue waters. Sandy white beaches. Mojitos… Film location scout Kenzie Cole has found herself in paradise. Working in the Caribbean for a week is just what she needs to escape the long line of exes in her closet. Though the last thing she expects is to be picked up at the resort bar by a disgraced former Prince!
Luckily for Kenzie, exile is suiting the man formerly known as Prince Fredrik very well. And it's not long before his rugged, pirate charm is proving hard to resist.
But Rik's been spending his time in paradise exorcising demons of his own and he has danger written all over him. If Kenzie was sensible she'd run a mile instead of lose herself to lust – although, they do say sometimes you have to get lost before you can be found…