In Another Chance (Austin Heroes #3) by Kathy Clark, Luke Archer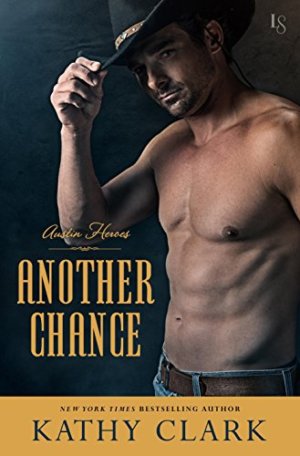 has never forgotten Bella Shaw, his high-school sweetheart. But in order to follow his dreams, he left Austin and her behind. Now with his work as an agent with Homeland Security, he's back in Austin to take down terrorists that are planning an attack. Can he secure Bella's help in his assignment and win her back all at the same time?
She studied him with a confused expression. "What are you doing here?"
Luke smiled. "Playing soldier."
"I hadn't heard you were back." There was a guarded tone to her voice.
He tried to determine whether she was happy or upset to see him. Considering their history, it could go either way.
Although Nick is my top choice of the three Archer brothers, I have to admit that I enjoyed this story the best of the three in this series. Not only because it's a second chance romance, but because of its intensity and what the main characters go through, especially Bella. Right from the beginning, this book had me hooked with what Luke and his team are doing. Would Luke figure out what the terrorists target was before it was too late? Would Bella and Luke be able to overcome their animosity towards her father for what he did in the past?
The dialogue was well-written, and had me glued to every word to see what obstacles Luke and Bella would have to overcome to be together and combined intense with playful dialogue to make this a story I could not put down. The intense due to the main characters back stories, the investigation into what the terrorists are up to and the history between these two that binds them together because of the love they still have for each other. However, it was the playful dialogue between Luke and Bella that I enjoyed the most. It illustrated just how comfortable they still are with each other, despite the fact that they haven't seen in other in years.
"Still can't say castrating? Toughen up, cowboy." She smiled.
"Poor little guys. They never even had a chance to have sex with a beautiful young heifer."
She snorted. "Don't you think the bigger issue is that they're heading for the butcher shop?"
"All the more reason that they should have a chance to sow their wild oats first."
I absolutely loved both the main characters. Bella is a little bit of a bleeding heart in the way she helps people that don't have much of a chance to help themselves. Yet, at the same time, how did she know she wasn't helping the wrong people? An opinion that she and Luke agree to disagree on because of what she's done on her property and something that could land her in a whole lot of trouble. That is, if anyone besides him found out about it. Also, she's strong and brave, although she knows getting involved with Luke could end in heartbreak all over again.
While Luke, he's smart, confident, protective and I liked how determined he was to win Bella back. No way can he let her go a second time; not when he still loves her and if he has to have a tough conversation with her father he will, because he's done letting the man hinder their happiness. He's also very hard-working and the way he dives into the hunt for the terrorists proves how good he is at his job. Besides, if his past relationship with Bella helps him in his information gathering, all the better.
As for this couple's growing relationship, it was hard not to be pulled in by the love these two still have for each other. It was there in every emotion and reaction when they conversed, and revealed that it was only a matter of time before they found their way back to being intimately familiar with one another. Really, there was so much heat and tension between them; and with Luke feeling like he was competing for her affections – in the beginning – because of what Bella pulls in what he thought was going to be a dinner for two, physical intimacy was inevitable. And eventually, Luke and Bella's intense chemistry spills over onto the pages in passionate sex scenes that had me cheering for this couple to achieve this happy ever after.
Overall, Ms. Clark has penned an incredible novel that provided plenty of intensity, and kept me entertained from start to finish with its likeable main and secondary characters that have me wanting to re-read this series. The way this story ended with the epilogue had me smiling, because after everything Bella and Luke go through towards the end of this book with the hero's investigation going south and lives in danger, they deserved every bit of happiness that came their way. I would recommend Another Chance, if you enjoy romantic suspense and second chance romances. I would also recommend the other books of this series, as the Archer Brothers are heroes that provide a superb read.
Book Info:

Publication: November 1st, 2016 | Loveswept | Austin Heroes #2
Homeland Security agent Luke Archer returns home to Texas on a dangerous mission—a hands-on fight against a terrorist organization that has infiltrated the United States—yet it's a chance encounter with his high-school sweetheart that really gets his blood pumping. Luke considers himself a lone wolf who doesn't need a woman in his life. But as memories of their sweet, innocent affair stir him body and soul, Luke starts to wonder whether he should give love another chance.
A high-powered attorney, Bella Shaw has never forgotton how Luke left her behind in Austin to chase his dreams. But when she's being totally honest with herself, Bella can't deny that Luke is the one man she ever truly wanted. Though he tells her that the terrorists are using her land, she's more worried about defending her heart from the advances of the sinfully sexy lawman. Still, Bella is willing to trust him again—if Agent Archer proves he's worthy.