The Fall of a Saint by Christine Merrill: It's a interesting story, full of initially unlikeable people. Maddie Cranston is an angry woman, a former governess who is now without a position having found herself accidental pregnant by Michael Poole, the Duke of St Aldric, also known as "The Saint." She hates both herself for welcoming him into her bed while dreaming and imagining him to be her first love, and him for being there, and being the cause of her losing her livelihood. She is also afraid, not knowing what will happen to herself or her unborn child, but imagining that a duke would not want his child be raised in poverty.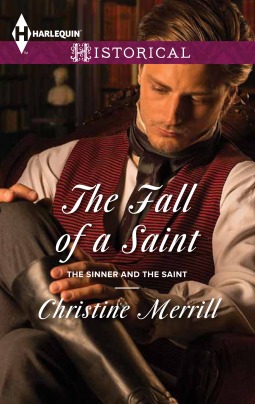 Michael, on the other hand, is full of conflicting emotions: self-loathing for having gotten drunk and climbing into the bed of the wrong woman and taking complete advantage of her, and elation at having gotten her pregnant after being told he was most likely infertile due to a bad case of mumps. His solution to the problem is asking her to marry him, and telling Maddie that she can have or do anything that she wants. Maddie accepts, because there really is no alternative for her, and because she would have an unlimited opportunity for revenge against him.
"She must never forget that, though the Duke of St Aldric might seem like a gallant rescuer, he was the cause of her current problems, not the solution. She forced a smile, imagining that she was strong enough to be his equal and not just a governess who had run out of options. 'Very well, then. I will marry you.' And I will make you pay for what you have done."
And revenge she does take, although it takes the form of annoyances than anything dangerous or mean. She plans a huge ostentatious wedding, she buys tons of garish clothes, she obtains an old nag at an outrageous price. Finally, she demands to leave the city, and at his wits end, Michael takes her to the estate where he was raised by his callous, promiscuous and unfeeling parents. While there, things slowly turn around, and they both gradually learn to like, and then love, each other. However, their happily ever after takes a while to happen, with quite a few distractions and emotional upsets along the way.
I liked this book, despite the fact that I probably should not, given the distastefulness of the premise, that man who takes sexual advantage of a unknown sleeping women is the hero of a book. However, the writing and the main characters caught my attention so much that once I started reading it, I could barely put it down. I was very interested to see how the author could take these people from being so unhappy and unlikeable to their HEA. Many times in romance novels the growth of a character is small, while in this book there is significant change, from beginning to end, and I enjoyed the process of their change and redemption.
Book Info:

Publication: February 18th 2014 by Harlequin
THE ONLY WOMAN WHO CAN MAKE HIM REPENT!
Honorable—and handsome to boot!—Michael Poole, Duke of St. Aldric, has earned his nickname "The Saint." But the ton would shudder if they knew the truth. Because, thrust into a world of debauchery, this saint has turned sinner!
With the appearance of fallen governess Madeline Cranston—carrying his heir—St. Aldric looks for redemption through a marriage of convenience. But the intriguing Madeline is far from a dutiful duchess, and soon this saint is indulging in the most sinful of thoughts…while his new wife vows to make him pay for his past.