In The Family Gathering (Sullivan's Crossing #3) by Robyn Carr, Former Army Ranger Dakota Jones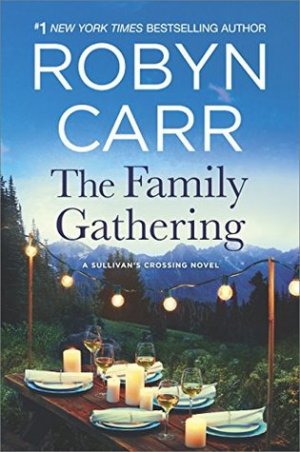 has been wandering the world for what seems like forever before he decides to stop into Sullivan's Crossing to visit his sister Sierra and his brother Cal. Both of whom have recently moved to the rugged little town, each having found the love of their life and having put down roots there. Dakota's not sure he's ready to make it his permanent home yet, but he likes what he sees. Especially when he runs into beautiful bartender Sidney. She's definitely a reason to stick around, so Dakota can get to know her better and see where things take them. And it's clear from the start that while they have strong chemistry, they both need to take things slow. He's still recovering from the loss of someone dear to him while Sid is still a bit shattered from her ex's betrayal.
"I never imagined I would find you. I wasn't looking for this, but God… I think finding you is the best thing that could have happened to me."
Moving in with her brother Rob, who owns the local bar, and her two nephews was one of the best things Sidney has ever done. It's given her a purpose again and helped her by being surrounded by the love of her family at a very low time in her life. Meeting Dakota is another thing altogether. It's equal parts exciting and terrifying, because Sid just isn't sure she's ready to put her heart back out there again. She knows Dakota has also had his share of loss and tough times but he seems to already be well on his way to sorting it all out. If only it was so easy. On top of her own problems, it seems a couple of local single ladies are not happy Dakota's dating Sid and at least one of them is intent on causing trouble. Something the new couple is trying to avoid. Hopefully the Crossing's healing ways can work its magic on Dakota and Sid, helping them see that they can make things work between them as they find their new beginning together.
"I don't want you to rescue me." She put her palms on his cheeks. "I want to rescue myself."
He was quiet for a moment. "I'm not sure I get it."
"I know," she said. "I can't really be with you until I'm sure of who I am. And who I am is more complicated than you realize."
The Family Gathering was certainly well named, as it showcased the dynamics of four adult siblings and their efforts to mend fences and reconnect while they were all finally together in one place–lovely Sullivan's Crossing. The added bonus of newfound love and continuing romantic journeys was just the icing on the cake.
'He was falling in love with her and it didn't leave him at all uneasy. He welcomed the feeling. He hoped it would never end.'
I've really been enjoying getting to know the Jones family as well as the locals around Sullivan's Crossing. Robyn Carr has such a wonderful way with a story. She creates these characters that are so down to earth and real that I feel like I'm there with them, in whatever situation they find themselves in. And as this was the first chance to see all four of the Jones siblings in one place, let me just say that it turned out (for the most part) much better than I expected. There were a few issues to sort out–mainly Sedona's personal life–but I think with them all having been through their own tough times individually it made Dakota, Cal, Sedona and Sierra more open to reconciling their troubled past with a lot less drama than there would have been years prior.
The main characters were Dakota and Sid, but this was told from multiple POVs so we got to catch up with everyone we've met along the way in this series so far. I was worried I wouldn't like Dakota after finding out that he kind of pulled a disappearing trick in his late teens and early twenties, not even usually visiting his siblings while he was on leave from the Army. But I think in his case, being in the military and becoming a highly trained Ranger helped him figure out where his loyalties should be. Having lost someone very dear to him in the fairly recent past, Dakota knew he wanted to get to know his brother and sisters better–and was pleasantly surprised that given their weird upbringing, they turned out to be a pretty well-functioning, intelligent, interesting group.
The romance that grew between Dakota and Sid was a slow burn that just felt right. They were a great fit together. Sid was one smart woman who was still reeling emotionally after a huge betrayal by her ex. I do wish she and Dakota would have opened up to each other about their pasts and what they were struggling through earlier in the story as I think they could've helped each other heal faster. But as in real life, they had to make some mistakes before getting to the good stuff. And it truly was good between Dakota and Sid. She was already building a new life in Sullivan's Crossing with her brother and nephews, so I think it helped Dakota settle in quickly, where two of his siblings were already living there as well.
There was a nice little thread of drama where Dakota was concerned, as it appeared he was potentially being stalked by one or two women shortly after his arrival in town. That part added some excitement to the plot and kept me wondering if things would go all Fatal Attraction or if it would get sorted before anyone got hurt.
Sullivan's Crossing was one busy place in The Family Gathering. Romance was in the air, as were reconciliations and families growing and changing for the better. Robyn Carr's writing voice was just as charming and clear as ever with this heartwarming tale that I think fans will wholly embrace.

Book Info:

Publication: April 17th 2018 | MIRA | Sullivan's Crossing #3
Having left the military, Dakota Jones is at a crossroads in his life. With his elder brother and youngest sister happily settled in Sullivan's Crossing, he shows up hoping to clear his head before moving on to his next adventure. But, like every visitor to the Crossing, he's immediately drawn to the down-to-earth people and the seemingly simple way of life.
Dakota is unprepared for how quickly things get complicated. As a newcomer, he is on everyone's radar—especially the single women in town. While he enjoys the attention at first, he's really only attracted to the one woman who isn't interested. And spending quality time with his siblings is eye-opening. As he gets to know them, he also gets to know himself and what he truly wants.
When all the Jones siblings gather for a family wedding, the four adults are drawn together for the first time in a way they never were as children. As they struggle to accept each other, warts and all, the true nature and strength of their bond is tested. But all of them come to realize that your family are the people who see you for who you really are and love you anyway. And for Dakota, that truth allows him to find the home and family he's always wanted.