Forever Home by Allyson Charles: Animal rescue shelter owner, handsome, easy-going guy meets real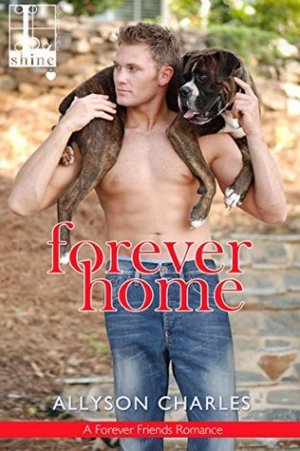 estate agent, single mom, buttoned-up workaholic who is not a dog lover. Not exactly a recipe for love at first sight. Isabelle Lopez rescues an abandoned dog and her cute puppies from a vacant apartment building. She just couldn't leave them there to die so she gathers them up and plans to drop them off at the nearby rescue center. Drop and Go. No one the wiser. Not so fast though. Bradley Cohen, the rescue shelter owner catches Izzy dropping off the mama dog and her pups at the back door in the alley behind the shelter building. Yum! Izzy sees a handsome, sexy guy and is attracted to him. Brad sees a lovely, sexy lady and is attracted to her. Sounds like the beginning of a potential HEA. But wait, it can't be that easy! Izzy has a secret which could derail this love train in a big way.
Allyson Charles has an enjoyable story in Forever Home, the first book in her new Forever Friends series. She spells out the initial conflict in the story in an entertaining way and then proceeds to take the reader to the resolution of the conflict in a well-developed storyline. Along the way she introduces some truly delightful characters as well as some the reader won't be cheering for along the way. Izzy's daughter, Ana, is a charming nine year old who loves animals and has always wanted a dog. Does she get her wish? The volunteer vet, Gabe Moretti, is Brad's cranky best friend. He's a great vet but not so good with people. Other secondary characters pop up along the way and add charm and sometimes drama to the plot.
The characters in this story and their interactions make this a charming story. What puts the cherry on top for this book are the dogs and their interactions with the people they captivate with their antics. This is a very pleasant beginning to a series I look forward to following.
Book Info:

Publication: April 10th 2018 by Lyrical Shine | Lyrical Shine | Forever Friends
LOVE UNLEASHED
Isabelle Lopez has never been a dog person. Raising her daughter alone and building a real estate career leaves no time for four-legged furballs. When she finds an abandoned mutt and litter of pups in a foreclosed apartment, Izzy intends to drop them off at a shelter and walk briskly away. Instead, her "heroic" deed makes her a local celebrity. Her boss is thrilled. Commissions are up. And thanks to gorgeous shelter owner Bradley Cohen, Izzy's disciplined life is suddenly much, much more complicated.
He's got a sexy smile, a wicked sense of humor, and a big, noble heart. Even as Izzy tries to get her libido to heel, boy, Bradley sets out to convince her there's more to life than padding her bank account. But Izzy knows a trade secret that puts Brad's beloved shelter at risk, and she can't warn him.
Their relationship was barely getting started; suddenly it's in the dog house. Now Izzy and Brad need to figure out what matters most, and whether this could be much more than animal attraction…