In The Farthest Edge (Honey #2) by Kristen Ashley, The Bee's Honey, aka the Honey Club, used to be where Evangeline, a Domme, went to have fun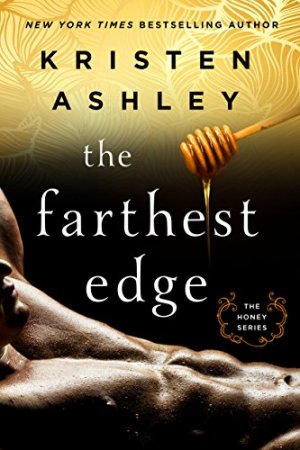 and let loose. But after a terrifying incident with a sub she cared deeply for left her physically and emotionally wrecked, she's avoided the scene altogether. Then Branch is referred to her. And Evangeline is intrigued by the beautiful man with ice cold blue eyes. She knows she has the skills as a Domme to take him to a place he's likely never been before as a sub. But she'd really like to get him to open up emotionally to her as a man. She just didn't realize how much past trauma and issues she and her alpha-sub would have to wade through to get there. The possibility of seeing Branch content and finally smile some day is worth the fight, though.
"…This guy is unbreakable. There's no edge for him any Domme can get anywhere near to push him off and that's what he's looking for. Being taken to the farthest edge and shoved right the fuck over."
Branch's life has been anything but easy. His childhood, his career, his personal relationships have been nothing but messed up. Being off the grid and having no ties to his past may be working for him at the moment but he would like something easy and stable in his life for once. When a contact and friend refers him to Evangeline to play, Branch thinks there's no way this gorgeous, tiny little Domme could ever break him. But looks are deceiving. And before he realizes it, what was going to be a one-off in the playroom turns into an ongoing thing. Branch knows he's not good enough for Evangeline, his Angie, but he can't seem to make himself leave. With one final loose thread from his past still niggling at him, he has a choice whether to let go of a future with his Mistress or buckle in for the long haul and do what he has to do to get rid of his demons.
"You're everything."
Branch froze at her words.
She wasn't done.
"It's like I wrote out a wish list and whatever powers at work who got hold of it made you just for me, ticking off all the boxes."
He closes his eyes and whispered, "Angie."
The Farthest Edge was a sensual, provocative erotic romance focused on two wonderful individuals with heartbreaking pasts, doing the best they could and finally finding solace together so they could heal.
"Pull your head out of your ass, son. You are not alone. Not anymore. You have people who give a shit about you and you have a woman who does it for you. Don't fight it. Rejoice."
I'll start off like I did with my review for book one, The Deep End, by cautioning readers that this is a straight up erotic series and so far it is woman dominating men, with all the (hot!!) graphic scenes one would expect in a BDSM story. But that being said, I am really loving the characters and the Honey Club itself that Kristen Ashley has created. The Dommes and Doms are each so unique and interesting, with their own distinct personalities and backgrounds, and the subs are every bit as intriguing as well. And while there were plenty of explicit and extremely sexy play scenes here, I thought Branch and Evangeline's burgeoning relationship was really what took center stage and made this a well-rounded novel.
It made me so happy to learn more about Evangeline and Branch. They were on the outskirts in book one and I thought Branch sounded quite mysterious and Evangeline was obviously going through a tough time after being assaulted. But as we got more details about their backgrounds and what they had been through in recent years, it turned out that their lives were even more complex than I had imagined. I loved them together and thought Evangeline was just the right Domme–and woman–for Branch. It was really cool to watch such an alpha guy (like with Olly in book one) become submissive. And Kristen Ashley did a fantastic job getting into Branch's headspace and conveying to the reader how he felt letting go of control and how much Evangeline meant to him. Evangeline herself was a dynamo as a Domme and a lovely person overall who knew exactly what Branch needed–in and out of the playroom. I simply adored her.
I have no idea where Kristen Ashley will take us from here in this series, but I know for a fact that it will be a wild ride worth every single emotional moment spent between the pages.

Book Info:

Publication: Published June 6th 2017 | St. Martin's Griffin | Honey #2
A man without a past. A woman who lost her future. Together they'll push each other to the farthest edge and ignite a passion that's harder and deeper than they ever imagined. But is it strong enough to turn into something real and lasting? In the second highly anticipated book in the Honey series, New York Times bestselling author Kristen Ashley once again delivers a smoldering hot story that is achingly romantic and populated with intensely raw characters that will stay with you long after you turn the final page.