In Sweet Victory (Fighting for Love #4) by Gina L. Maxwell, Sophie Caldwell needs a husband desperately, if she's to save her bakery from being sold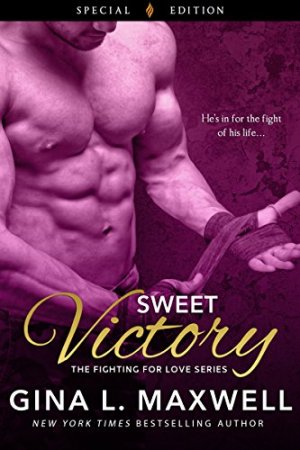 by her uncle. Luckily, the sexy MMA fighter who owns the gym near her shop is willing to help her. However, every day she and Xander James spend together as a married couple, Sophie has to remind herself that she can't fall in love with him. Except when the moment they planned to part ways comes around, it may be too late to save herself from heartbreak.
=I'll need you to draw me a map to get to that whole 'makes sense' conclusion. You don't even know me, Xander."
"If a legal marriage is the only thing standing in the way of saving the bakery, then let's get you hitched proper." One of his hands came up and trailed the back of his fingers across her cheek. "Come on, Soph, let me help you."=
This is the first book by Ms. Maxwell that I've read, and I've got to say that this fourth book of her Fighting for Love series was a fantastic fake relationship read with great characters, well-written dialogue and an ending that had me loving the hero even more than I did when he was introduced into the story. The way this story started had me feeling sorry for hero and heroine, as both are likely to lose their businesses if they don't take desperate measures. However, Sophie has never had much luck when it comes to relationships, so how will she have any chance of convincing her uncle that she and Xander are in love?
Both the main characters entertained me from start to finish with their back stories, their growing relationship and their dialogue. Xander can be very convincing and it is understandable why the heroine puts her trust in him. Emma wants nothing more than to keep her bakery open, because it's the one thing that'll keep the memory of her Grandma alive when the older woman seems to be slipping further and further away due to her illness. Also, it was hard not to empathize with Emma's plight, but still, she's strong and brave by standing up to her uncle and taking Xander up on his offer, since he can't afford to lose his gym in the middle of him trying to make his way back to the top in his career as an MMA fighter. Will he be able to get back to tip-top shape and accomplish his chance at a successful comeback?
While Xander, he was a hero I absolutely loved. He's strong, tenacious when it comes to his career and I liked how determined he was to help the heroine in any way he can. He offers support when she needs it, and she definitely needs it when it comes to dealing with her uncle and visiting her Grandma. I also liked that he didn't cave to the demands her uncle made of him, because he cares for Sophie more than he ever thought possible and he's not going to be someone that lets her down like she's been let down by other people in the past.
"How much did you have to drink tonight, beautiful?"
Her eyes remained closed as she answered. "I had a nice buzz going early in the night, but three glasses of wine is my limit. Any more than that and I wake up with a headache from hell. How about you?"
"No more than I've been drinking since I was twelve."
Her warm chuckle vibrated through his chest. "I forgot how forward-thinking you Europeans are when it comes to alcohol."
"Don't forget nudity, sex…all the fun things, really. Not like you American prudes."
Overall, Ms. Maxwell has penned a really good read in this book where the scorching hot sex scenes do justice to this couple's really intense chemistry. Xander is perfect for Sophie, as it's palpable he's a man that would do anything to make her happy. The way this story ended was delightful, as Emma realizes that she can't live without Xander in her life and she will do anything to make things right and I love the way she does that. Certainly, she knows how to draw attention to herself when the focus should be on Xander after what happens to him. However, it was the epilogue that wrapped this story up perfectly, as Xander is determined to make sure Emma is completely his forever. I would recommend Sweet Victory by Gina L. Maxwell, if you enjoy the fake relationship trope or books by authors Nina Croft, Amy Andrews or Sabrina Sol.

Book Info:

Publication: February 27th, 2017 | Entangled Publishing | Fighting for Love #4
Sophie Caldwell might not like asking for help, but help is what she needs if she's going to save her family business from her uncle. Her grandma left one rule for Sophie if she wants to gain sole ownership before she's thirty–get married. Yeah, fat chance of that happening since she hasn't had a boyfriend in years, and now she can't get her uncle off her ass.
British-born MMA fighter Xander James has never lost a fight, and he's not about to start now. He's on the brink of a comeback that could make him a UFC champion, but his landlord wants to take away his last chance by shutting down his gym. Hell, no. Fortunately, his landlord's niece has a problem of her own. Time for a proposal she can't refuse.