The Fiance by Stefanie London is the fourth book in her Close Quarters series, featuring a group of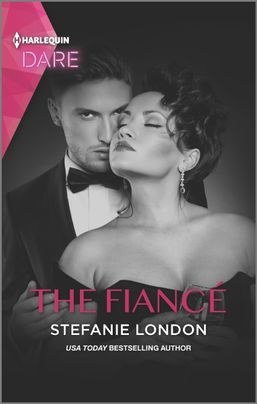 female friends who find themselves in unexpected situations with soon to be new partners.
Ava Matthews is struggling to make ends meet with temp teaching jobs and some night time catering when she gets caught in a compromising situation with billionaire CEO Daniel Moretti. Daniel's brother is accusing him of having an affair with his wife (untrue) and to escape for a minute of solitude at a company party he ducks into a closet, where Ava happens to be changing her catering uniform after a pasta sauce incident.
Realizing that this won't look good for either of them when they exit the closet, Daniel thinks of a quick solution – Ava needs money and he needs to convince his brother that he's not after his sister-in-law – would she agree to pose as his fiance until such time as they mutually agree to split? Ava can't refuse the offer and their fake engagement is off to a flying start. Spending time together convincing his family that they're engaged means getting to know one another, and satisfying their mutual attraction in some steamy interludes. But can it lead to a real affair of the heart?
I enjoyed this Cinderella themed fake relationship romance! Daniel is very rich, and treats Ava very well during their time together where she moves into his home (having been told her apartment is up for sale and she has to move anyway). He buys her beautiful dresses for the events they have to attend, and takes her to France for a mini-vacation. It's a very idyllic lifestyle one could easily get used to.
But Ava is more interested in the person Daniel is than his money. It's hard to get him to open up, but when he does, she finds out how hurt he is by his brother's accusations and how hard he tried to protect his brother from their parent's marital problems when he was little. He learned from them that marriage is a farce and has no intentions of going that route for real.
As for Ava, she and her mother get along okay but her mother was enamored with a wealthy man who left her when she got pregnant with Ava, so she knows not to fall for Daniel's exterior wealth. Of course, as they spend time together they develop real feelings for each other (and the sex is amazing!) and when more is revealed about why his brother accused Daniel and the real story comes out, they have to decide what comes next for them. There are a few bumps on the road as they sort things out but they get their happy ending. It's a sexy and entertaining read.

Book Info:

Publication: Jan 01, 2021 | Harlequin Dare | Close Quarters #4
A fake engagement seems like the perfect solution for struggling teacher Ava Matthews and scandal-ridden CEO Daniel Moretti in USA TODAY bestselling author Stefanie London's fourth Close Quarters story!
I may be a barely employed, soon-to-be-homeless teacher/waitress, but that doesn't mean I'll marry any creep my mum brings around. Some guys like short and curvy! And I haven't given up on the dream—the love of a man who makes me hotter than a Melbourne summer night.
Getting caught in a supply closet with CEO Daniel Moretti is the cherry on top of my day from hell…until the heat in his dark eyes makes me want to rip off my spaghetti-sauce-stained catering uniform. Daniel can't risk more salacious rumors, so he proposes a deal—I agree to be his fake fiancée and he'll help me get back on my feet.
Moving in to Daniel's luxurious loft puts us in close quarters. And it's not long before we're saying yes all night long! But Daniel wants nothing to do with passionate love, and I won't settle for anything less. Could a fake engagement lead to true love…or am I only fooling myself?