In A Co-Worker's Crush (The Rooftop Crew #6) by Piper Rayne, For well-known tattoo artist Jax,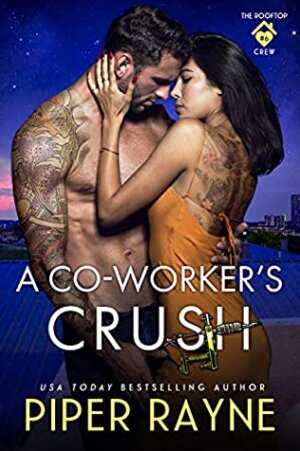 working at his best friend's shop, Ink Envy, has been a great gig. Not only does he have a cool clientele but he also gets to hang with Dylan and Frankie all the time. Okay. So being around Frankie is a bit of a conundrum for Jax. Because as much as they argue and tease each other, he'd love to see if the chemistry between them burns as hot as it seems. Although Frankie is off-limits. She's his co-worker, first of all. And second, she's a single mom to five-year-old Jolie–a kid who stole his heart with one look. Jax doesn't do relationships. And he can guarantee that's what Frankie would be looking for. But after spending years in the foster system, he just doesn't think he has what it takes to be a good role model for Jolie or as a long-term boyfriend to Frankie.
'For the first time in my life, I think about what sharing a life with someone would be like, coming home to a woman like Frankie every night. It looks really nice in my crystal ball. Like something I might enjoy. And that thought terrifies me.'
Some days Frankie thinks Jax was put on this earth to torment her with his antagonistic (and middle school type) bantering. Then there are days when she can't get his sexy face out of her mind. As a single mom to a precocious little girl who already adores Jax, Frankie knows she has to be cautious. But who could blame her if she wanted to have a little bit of fun, right? Things between her and Jax turn pretty hot and heavy after they give in to their attraction, making Frankie wonder if there might be more substance to a relationship between them after all. Now if she can convince Jax of the stand up guy she sees inside him, they just might have the chance to be together.
'One thing Jax has made clear is he isn't interested in any type of commitment. And when you have a five-year-old daughter, that's the first thing you need from a man.'
A Co-Worker's Crush was just as it sounds–a sexy romance between co-workers. And boy wasn't this a highly enjoyable flirty, heartwarming story to round out The Rooftop Crew series.
"Hell, if you want to start a little friends with benefits thing, I'm game."
"We'd have to be friends first." She gives me a saccharine smile.
…"Why friends? Enemies with benefits sounds a million times hotter."
First, you can read this as a standalone very easily and still understand the intense chemistry between Jax and Frankie that had been building since he started working at Ink Envy. Second, I adored not only this couple but all of the other couples we got to catch up with, who are all in each other's lives on nearly a daily basis. So much fun! The camaraderie is something I cherish in an ensemble cast and author duo Piper Rayne did a fab job showing the strength of those friendships in small and big ways throughout the story.
Frankie and Jax were a hoot together. The bickering. The good-natured teasing. The obvious attraction that neither one wanted to admit to. And then there was Frankie's five-year-old daughter Jolie. What a cutie pie. She had Jax wrapped right around her finger and he was amazing with her. I thought it seemed quite realistic that where he had grown up without parents or role models, being pushed through the rough side of the foster system, that Jax had no confidence in himself as a father figure for Jolie–or even as a boyfriend for Frankie. Good thing they both believed in him. Which proved how much of a connection they had, given that Frankie's own past with men left a lot to be desired. But they earned a HEA that was perfect for the quirky couple and that I guarantee will have readers grinning.
There was lots of laughter as well as a few tears shed while reading A Co-Worker's Crush. And I would gladly do it all again just to get to spend some more time with these lively characters who snagged my heart from the very first page.

Book Info:

Publication: Published January 3rd 2021 | Piper Rayne | The Rooftop Crew #6
Three tattoo guns.
Five motorcycle tires.
Countless T-shirts.
That's what I lost before I realized nothing good comes from dating my co-workers.
Usually, I don't have much self-control. So, the fact that Frankie Grant is a hot, talented tattoo artist means it's a damn miracle she hasn't already been in my bed. But nothing can happen between us because Frankie comes with Jolie, her young daughter, and a crap load of baggage from her ex. And those are two things I never entertain.
Anyone who knows me—the screwed up foster kid from the wrong side of the tracks—knows I'm not the guy you take home to meet your parents, let alone your kid. But I also know what it's like not to have parents, so things get complicated when Jolie asks me to be her daddy.
I might as well just slash my own tires now.