Submission Impossible is the first book in Lexi Blake's Masters & Mercenaries: Reloaded series. Lexi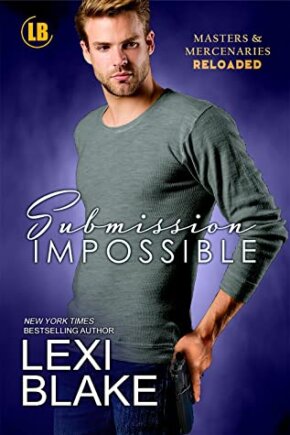 Blake is moving on to the stories of the younger agents at McKay-Taggart.
Noelle LaVigne thinks someone got into her work laptop and she is afraid it might mean her scientific research has been compromised. She mentions her suspicions to her father, Sheriff of Papillon, Louisiana, Armie LaVigne and she ends up with IT/computer specialist Greg "Hutch" Hutchins from McKay-Taggart Security to search her laptop and McKay-Taggart bodyguard Kyle Hawthorne to guard their backs.
Kyle is recently home from a hitch in the Navy and also happens to be Ian Taggart's brother Sean's stepson. Noelle is doing research for a promising process that would benefit humanity. She works for a company called Genedynamics owned by a ruthless narcissist Jessica Layne. What Noelle hadn't told her overprotective sheriff father was that the recent accident that killed another scientist at Genedynamics might be related to someone spying on her research. Another item she hasn't told her overprotective father was that she was joining the submissive training class at Sanctum, Ian Taggart's BDSM club in Dallas. Her father definitely didn't need to know about that. Noelle's first meeting with Hutch wasn't the best but, wow, the attraction was undeniable.
Hutch didn't get off on the right foot with Noelle but he was determined to fix that mistake. He wasn't interested in another vanilla relationship though so he when he heard Noelle was starting the sub training class at Sanctum he had his heart set on her as his sub.
I was happy to see Hutch "Candyman" find his soulmate and a HEA. Readers of earlier Masters & Mercenaries stories know that Hutch has experienced lots of bad stuff in his life. There's enough background and explanation in this book to get an excellent feel for Hutch as a character. I loved that Ms. Blake incorporated a character in Noelle LaVigne related to her Butterfly Bayou series (Hello Papillon alligator town mascot Otis!) I find it amazing how well this author ties together different series in obvious and subtle ways. Sheer genius! I also think the way Lexi Blake writes a scene where the outcome looks hopeless and she brilliantly comes up with a way to save the day is fascinating. Never underestimate this author's ability to surprise her readers. I love it!
Book Info:

Publication: February 16th 2021 | DLZ Entertainment, LLC | Masters & Mercenaries: Reloaded #1, Masters and Mercenaries #22
He loves the sweet life
Greg Hutchins is reluctantly adulting these days. He's settled in his job, recently bought his first house, and has a network of friends he can call family. But there's something missing in his life, and he can't quite put his finger on it. When he's assigned to a case that involves investigating a biochemical company, he meets a woman who's sweeter than any candy. Maybe she's just the thing to make him feel complete.
She's ready for the future
Noelle LaVigne has faced plenty of tragedy in her life, but she's on the right path now. Between her new job and settling into a new city, she's got no time for dating or relationships. She's worked hard to get where she is, and no man is going to push her off track. Except the minute Hutch crosses her path she can't seem to think about anything but the handsome security expert. He's there to find a corporate spy, but late-night work sessions make her think they've both found something much more meaningful.
A twist they never saw coming
When the case becomes dangerous, both of their futures are on the line. And when the bullets start flying, they will have to learn to trust in each other if they hope to survive.