The Fiery Crown by Jeffe Kennedy is the second book in her exciting Forgotten Empires fantasy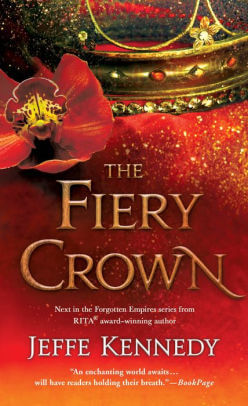 romance trilogy. Middle books are a little trickier to review – there are necessarily some spoilers that will arise because you can't talk about book two without references to some of the plot of book one. And because it's a trilogy, the story arc in the second book has some interesting peaks and valleys with no conclusion – yet. Readers who pick this one up on its own will get a good introduction to what's happened so far, but I definitely recommend starting the trilogy from the beginning.
The Orchid Throne introduced readers to Conri, a former prince of Oriel who was enslaved by the evil Emperor Anure but managed to escape from his prison mines, building an army of followers who call him the Slave King. Conri's one goal in life is to get his revenge on Anure. To do this, he is following a prophesy shared with him by a wizard, Ambrose. It says that he needs to 'claim the hand that wears the abiding ring'. It turns out the 'abiding ring' is also known as the orchid ring that Lia, Queen of Calanthe wears. To fulfill the prophesy, he enters into a marriage of convenience with Lia who is also trying to stave off Anure, the man she is technically (and reluctantly) betrothed to. Marrying another man is a sure way to break that promise and both she and Conri know that Anure will not take this insult lightly.
The Fiery Crown starts with Conri and Lia married and preparing for Anure's retaliation. Their marriage has plenty of passion when the two of them are alone together, but outside of the bedroom they are in constant conflict over the impending attack. Lia's duty is to Calanthe, the people, and the island. She worries about the possible bloodshed on its soil that could awaken a sleeping monster underneath the waters. Conri on the other hand is spoiling for battle. Anure stripped him of his family and his lands, something he has done to many other empires. He wants revenge for them, and for anyone who has suffered at Anure's hands. He's not above sacrificing parts of Calanthe for the greater good. But he's also torn by his growing feelings for Lia and how they conflict with his plans. When Anure arrives, will Conri make the choices that spell victory or invite disaster?
Once again the author has put her imagination to work and created a thoroughly entertaining story with magic, action, love and desire having equal sway over the plot. There are lots of twists and turns, and some 'Oh!' moments that I didn't see coming, making for an exciting and page turning read. The worldbuilding is stellar, with interesting magic systems, especially in how Lia communes with her island and it with her. There are plenty of interesting secondary characters, including the wizard Ambrose, Conri's right hand men and women who served with him in the mines and since their escape, and Lia's entourage of royal lords and ladies. The love scenes between Lia and Conri are very passionate and intense, and help to cement their growing emotional bond. There are some violent scenes (not surprising given Anure's reputation) and the story ends without a cliffhanger but with things definitely unresolved. All in all it's a very satisfying second book in the Forgotten Empires trilogy and after reading this one, I can't wait to get my hands on the concluding story!
Book Info:

Publication: May 26, 2020 | St. Martin's Press | Forgotten Empires #2
A queen and her rebel prince turn from enemies to lovers while evil forces plot to destroy them in this lush romantic fantasy.
Following The Orchid Throne, Conri and Lia's marriage of convenience has turned into an uneasy alliance. If only the two leaders could agree on something. Driven by revenge, Conri wants to attack Emperor Anure before the tyrant gets to them first. But Lia needs to keep Calanthe safe, and refuses to sacrifice her kingdom. Their ongoing battle for control has built up tension they're both more than happy to release in bed, the only place where they find common ground. But Conri and Lia are developing deeper feelings for each other that are complicating matters. In the second book in the Forgotten Empires trilogy, Conri and Lia find their loyalties torn, and with Emperor Anure's threat growing, will they be able to risk everything with each other before it's too late?