One Hot Texas Summer by Nicole Flockton is the first book in The Prentice Brothers of Sweet Ridge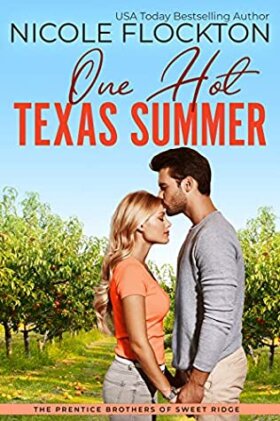 series. This is an excellent introduction to the Prentice brothers.
Kelly Turner is home in Sweet Ridge, Texas. She has opened her own florist shop called This Bud's For You after escaping a bad breakup and a very boring accounting job in Houston. She is happy to be close to her Mom's home and her friends, Macy and Charlotte Cooper. Now Macy has her talked into managing a satellite site for the town's annual Founder's Day Festival.
Kelly has been doing arrangements and decorating for the event but is reluctant to add to her duties. Macy explained that the satellite site would be at Prentice Peach Farm. What? Where? The peach farm being run by Tate Prentice? The Tate Prentice she has been dreaming about? Whoa! That's a different story. This will give her a chance to get to know Tate and find out if he really is a player as rumor has it. Why else would he be stopping in her shop weekly and purchasing flowers if not for women he is dating? Maybe she should just forget about anything to do with Tate. Having trouble fighting the attraction though.
Tate Prentice is the youngest of three boys. Their mother died when Tate was fifteen and the family just hasn't been the same since. Tate's oldest brother, Trey is off playing baseball after being drafted by a New York team. His other brother, Tyler is too busy with his grape vines and winery and that leaves him to manage the peach farm. He loves what he does and enjoyed working with his dad until his dad had a stroke. He visits him in the rehab center weekly and keeps him up to date on the peach farm. He takes floral arrangements to the center when he goes to visit his dad because he like to know his gift will make the recipient smile. The center chooses the recipient and that works out well. The bonus to this is getting to see Kelly Turner who makes up the lovely floral arrangements. She is one beautiful woman and boy is he attracted to her. Will she be interested in him?
The youngest of the brothers, Tate is the hero of this book and we get a decent introduction to Tyler. For me, so far, Trey is a mystery. I liked the way Kelly and Tate get together in this book. They are both very caring characters. Tate treats Kelly like a princess and I loved their Happily Ever After. I am looking forward to book #2, Falling for the Texan, Tyler's book.
Book Info:

Publication: May 26th 2020 | Tule Publishing | Prentice Brothers of Sweet Ridge #1
She's been fooled before by sweet words and hot kisses
Kelly Turner loves being a florist, and being asked to take the lead on the new site for the town's festival is an honor. If only she didn't have to work closely with the town player, Tate Prentice. After being burned once by a serial cheater, her inconvenient attraction toward Tate needs to be nipped in the bud.
Tate Prentice's focus is on ensuring his father recovers fully from his stroke and making sure the family's peach farm continues to thrive. When his brother nominates the farm to be the satellite site for the festival, he's less than impressed. The only good thing is he'll be working with Kelly – even though he knows she'll never give him a second glance, not with his reputation.
The more time Kelly spends with Tate, the more she sees the man behind the reputation. Can she trust her instincts, or will her heart be broken once again?