The Fifteenth Minute by Sarina Bowen is part of the Ivy Years series (though easily read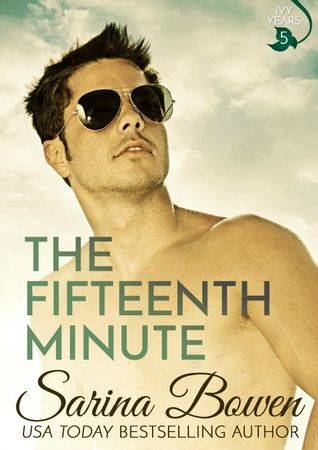 as a standalone) and features the romance between Lianne (a famous Hollywood star who just wants to be considered as another college student) and Daniel 'DJ', a student who spins tunes for the local hockey games and whose brother Leo plays on the college team. Daniel has a secret, one that keeps him at arms length from most people as he waits for some legal issues to be addressed. Getting involved with a cute, pint-sized movie star isn't part of his plan to fix up his life, but when she is clearly interested in him, he can't help but return her interest. They're both tired of their fifteen minutes of fame – can their relationship survive it?
I liked this story, though it isn't my favourite of the series . I've highly enjoyed previous stories in the series (The Year We Fell Down, The Understatement of the Year and Blonde Date are my personal favourites, and each can be read as a standalone). I liked both of the characters. Lianne comes across as an interesting combination of worldly and yet naive at the same time. She's been in the public eye for so long that having paparazzi stalking her doesn't phase her. But crushing on DJ and having him return that interest is another matter, as she hasn't had a 'normal' relationship with a guy due to her upbringing and stardom. DJ was also a great character, a young man who's dealing with a stressful situation, one that has taken over every aspect of his life and that affects all his decisions.
Truth be told, his particular conflict just didn't appeal to me to read about. I don't want to give away any spoilers, and likely most readers won't feel the same as me. I think also combining that particular conflict with Lianne's own reasons for avoiding the spotlight made for a college story that just didn't seem as realistic as others I've read. It's hard to articulate why, but when I think on the story, it seems like a lot of drama happening that kind of fizzled out at the end. The parts I really enjoyed were the musical ones, when DJ and Lianne either together or separately are playing the pieces for the hockey games – the choices of music and the scenes in general were very fun to read. DJ and Lianne definitely had chemistry together, and their love scenes are definitely steamy. They made a cute couple.
Ultimately it was still a good read even with the parts that didn't appeal to me as much. Those were over ridden by my enjoyment of Lianne and DJ as a couple and it was good to be back on campus again.
Book Info:

Publication: Oct 13 2015 | Self Published | The Ivy Years #5
Freshman Lianne Challice is known to millions of fans as Princess Vindi. But sometimes a silver screen sorceress just wants to hang up her wand, tell her manager to shove it, and become a normal college student. Too bad that's harder than it looks.
She's never lived a normal life. She hasn't been to school since kindergarten. And getting close to anyone is just too risky — the last boy she kissed sold the story to a British tabloid.
But she can't resist trying to get close to Daniel "DJ" Trevi, the hot, broody guy who spins tunes for hockey games in the arena. There's something haunting his dark eyes and she needs to know more.
DJ's genius is for expressing the mood of the crowd with a ten second song snippet. With just a click and a fade, he can spread hope, pathos or elation among six thousand screaming fans.
Too bad his college career is about to experience the same quick fade-out as one of his songs. He can't get close to Lianne, and he can't tell her why. And the fact that she seems to like him at all? Incredible.