In The Fight for Forever (Legend Trilogy #3) by Meghan March, Gabriel Legend has fought an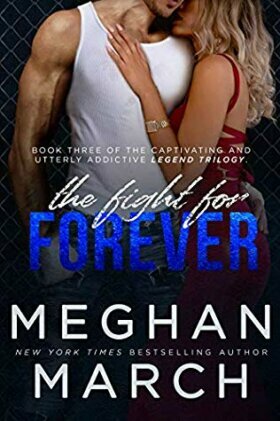 uphill battle his whole life. From his meager beginnings in Biloxi to his struggle to make a name for his nightclub Legend in NYC, he's not afraid to stand up for what he wants or what is right. That goes double when it comes to his loved ones. And now Legend, his girlfriend Scarlett Priest, and his best friend Bump, are all being threatened by someone from his past. The only way out of the situation is to fight. And to put his trust in the hands of some people who have entered his life recently. As much as Legend wants to do this on his own, he knows in order to protect his woman and his chosen family, it's gonna take a combination of them all to win.
'Oddly, she fits perfectly into all my worlds. Who the hell would have guessed that would happen? Not me, but she's the best damn gift I've ever been given.'
Scarlett might have grown up accustomed to the finer things in life, being raised in the upper echelons in New York, but she's more comfortable with Gabriel and his friends than at a society event these days. And she loves that fact. Scared as Scarlett is to give her heart to the former MMA fighter after a poor track record when it comes to men, she's sure Gabe is the one. That's why she'll do anything to help when she hears of the new issue they have on their hands. The odds aren't looking good. But Scarlett knows her man can win, no matter what is thrown his way. And with her as well as their friends and family supporting them, how can they not come out victorious?
"It's still early with all this, but I know what I want, Scarlett."
"What?" I whisper as my heart thuds impossibly hard.
"You. For as long as I can possibly have you."
Only one word accurately describes this outstanding finale in the Legend Trilogy: EPIC. How Meghan March continues to thrill her readers and create such involved plots with tons of emotion packed in is beyond me. But I definitely can't get enough.
'I'm preparing for the fight of my life, the odds are stacked against me, and I have no choice but to win.'
While it saddened me that The Fight for Forever was the last book in the Legend Trilogy, I was dying to know how it would all work out for Legend and Scarlett. And what a ride! There was action and suspense, wonderfully touching, tender moments, a good amount of laughter, and of course lots of super sexy scenes between the two lovebirds. Oh, and there were some crossover characters from March's previous duets/trilogies as well! The plot twists alone would be enough to keep a reader happy. But paired with everything else? This was a page-turner that I adored from the tumultuous beginning to the extremely happy ending.
Without giving too much of the excitement away, Legend had the weight of the world on his shoulders in this installment, trying to keep his loved ones safe from his past that was catching up to him. I loved how protective Legend was without being overbearing. He's most certainly an alpha guy. But he let Scarlett, Bump, and his other friends live their lives…just with him keeping an eye on them as they did so. It did feel like a lot of things got sorted out in this one story, but I have to hand it to March. It didn't really feel rushed or like the events that happened were too outlandish. Instead, it came across to me as the culmination of Legend's hard work, Scarlett's personal growth, and their combined efforts to save the club.
Wow. Just…wow. Bold and exciting. Redemptive and passionate. The Fight for Forever was every bit as stunning as the previous two books in the trilogy and finished things off in a spectacular way. Highly recommended.
Book Info:

Publication: January 14th 2020 | Meghan March LLC | Legend Trilogy #3
The utterly addictive Legend Trilogy concludes in The Fight for Forever .
You can only keep what you can protect.
That's all I've ever known. It's the way I've lived my life.
Now, everything I never knew I needed is at risk, and I'm not letting anyone take it from me.
I won't let anyone take her from me.
They say love is a battlefield, so I'm ready for war.
This time, it's the fight for forever.
The Fight for Forever is the final book in the Legend Trilogy and should be read after The Fall of Legend, book one and House of Scarlett, book two of the utterly addictive Legend Trilogy.