Trained to Defend by Christy Barritt is the first book in the K-9 Mountain Guardians series. Ms.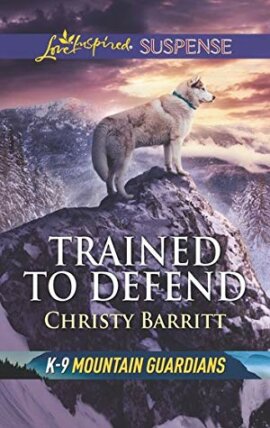 Barritt has written a fast-paced, action-packed plot with lots of suspense. The mystery is who really killed Loretta Blanchard and why.
Sarah felt that something wasn't quite right after stepping into her room. She had just returned from an art show where a couple people showed interest in her artwork. She eyed the closet and for some reason wondered if someone was inside it. Someone was – Buzzy – Sarah's boss Loretta Blanchard's emotional support dog. What is going on? Sarah rushed to Loretta's room where she found her bleeding on the floor. Buzz rushed Loretta's assailant and knocked him out but they were too late to save Loretta. With her last breath Loretta warned Sarah to take Buzz and flee. Sarah ran out with Buzz and drove around until she found herself at the secluded cabin in Iowa where her ex-fiance lives. She shouldn't go in and involve him in her troubles but she had nowhere else to turn.
Former detective Colton Hawk knows he can't turn Sarah away. His protective instincts are on high alert. Plus Sarah has stayed on his mind during the two years they have been apart. Her troubles are now his troubles. Maybe they both could get over the past and have a second chance.
Sarah and Colton dodge bullets and other dangers in their quest to find answers as Sarah is the police's prime suspect. The addition of the Husky Buzz made the story more interesting. Buzz is one smart canine and has a great sense of danger. I liked all the characters and especially Buzz. This is an exciting story and I look forward to more books in this series.
Book Info:

Publication: January 1st 2020 | Love Inspired Suspense | K-9 Mountain Guardians #1
"Take Buzz and run. Far away.
…and don't trust the police."
Framed for her boss's murder, Sarah Peterson is on the run—with only her boss's loyal husky, Buzz, for protection. To clear her name and keep her safe, she must rely on her ex-fiancé, former detective Colton Hawk. The police aren't the only ones searching for Sarah and the brave dog…the real killer is on the hunt, determined to silence them for good.