In The Firefighter's Twins by Heidi McCahan, readers are introduced to Natalie, who is juggling the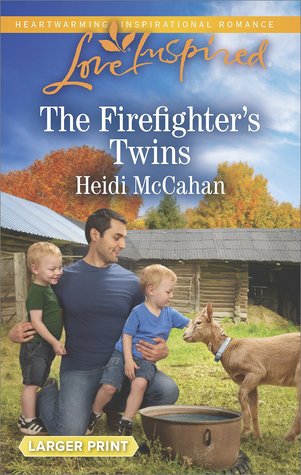 responsibility of managing her family's farm and its many offerings, along with trying to grow her wedding planning business and unique barn venue. She meets Shay, a new firefighter in town, when he and his twins are guests at a birthday party on her farm. While she finds him quite attractive she has vowed to never date a firefighter again after her firefighter fiance was killed in a fire.
Shay initially is not drawn to Natalie, but re-thinks this after a few more meetings that come about as a result of them being on a committee together. As they start to get to know each other, Natalie is faced with the decision of whether to accept a job offer of a lifetime to help grow her wedding business, against the concern she has for her aging parents and her father's grave health condition.
Shay and Natalie start to spend more and more time together, though she tries to put the brakes on a relationship after hearing of his bitterness over his ex wife's career ambitions. Both Shay and Natalie are forced to make difficult decisions. I found this to be a touching and realistic, and very sweet romance novel. I will definitely plan to read more of Ms. McCahan's novels and I highly recommend "The Firefighter's Twins.


Book Info:

Publication: May 22, 2018 | Love Inspired |
A formula for her new family?
Since his wife left, fireman Shay Campbell has focused on work and his twin toddlers. But the lovely Natalie McDowell is making him rethink that decision. She's great with his boys, and they adore her. But he can't go through losing someone again. Will a dream job offer win Natalie's heart, or does it belong to Shay and the twins?