In Atticus: A Woman's Journey with the World's Worst Behaved Dog by S. Bennett, Over the past six months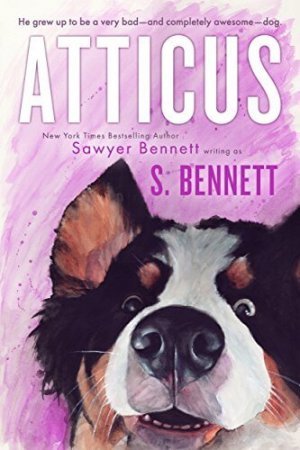 or so, Hazel Roundtree's life has completely collapsed. Stuck in a part time crappy paying job, separated from her lousy husband, couch surfing at her friend's apartment, she's one step away from homelessness. Hazel knows something has to change. Partying and basing her self-worth on the men in her life who always let her down, she's pretty much at rock bottom. But little did Hazel know that it would be a dirty, hurt and scared puppy who would set her on a path to finding herself again. Or that he would end up being the most terrific–and naughtiest–dog she would ever meet.
"I'm happy. I have my dog and my health, and for the first time in my entire life, I'm trying to handle things on my own. I'm scared shitless, and yeah…still just happy. And it's all because of that dog."
Stuck in a ditch, far from his parents and siblings, Atticus is in awe of the person who rescues him. He can tell she's in pain. Not quite like him…she's not physically hurt. But he can tell she needs him as much as he needs her right now. So when she tells him she's going to care for him and keep him, Atticus is over the moon. He will do everything he can to help Hazel feel better, making her life more bearable one day at a time. But what ends up happening is that Hazel and her new friends Oley and Bernard keep Atticus as much out of mischief as possible and fill his life with love, treats and belly rubs. Life turns out to be very good indeed for this once lost dog.
Hazel leans over me, and I smile up at her while she pets me. "You're a good boy, aren't you, Atticus?"
Why yes. Yes, I am. I give a little woof of acknowledgment.
"I'll always take care of you," she promises, and I believe her.
Atticus proved to be every bit as funny as it was uplifting. With a lovable, rascally dog and a beaten-down heroine who immediately bond, lift each other's spirits, and create a life together that was a miracle to them and everyone around them, you just know this will be sitting on my keeper shelf for years to come.
'Sometimes it's impossible for me to imagine there's another dog in the entire universe that's as obstinate and free spirited–translation really, really bad–as mine, although strangely, I wouldn't want him any other way.'
Okay, so I'm a sucker for a story with an animal featuring prominently in it anyway, but S. Bennett did a superb job with Atticus. I mean, that adorable book cover alone was enough to entice me into reading this. And finding out that it is her own dog Atticus not only gracing the cover, but also whose real life naughty antics we get to laugh about? Absolutely sold. Interestingly, though, it was the format of this book that really captivated me. It was told from two POVs: both Hazel's *and* Atticus's, and we got the inner thoughts and emotions of these downtrodden characters as we watched them save each other. *sigh*
I think our heroine Hazel may not work for every reader right out of the gate. (But give her a chance!!) It was rough seeing her party, work a dead end job, and put herself down over and over. She was basically at rock bottom when little Bernese Mountain Dog Atticus entered her life. I think what made me stick with Hazel and root for her to find her way was that she was pretty straight up honest about her flaws and she knew she couldn't keep going like she was. While attempting to find her self-worth from the validation of the men in her life. You kind of have to cheer on someone trying to be a better person, right? And the fact that it was awesome dog Atticus who showed her the way was utterly heartwarming.
The passages from Atticus's POV were hysterical at times and so darn sweet other times that it was enough to make a reader girl get misty-eyed. From his "No regrets" attitude about his mischief making to his complete devotion to Hazel, Attiucs stole the show–along with my heart. There were also a couple of other characters, though, that I think readers will latch onto and who brought interesting twists to Atticus and Hazel's lives: curmudgeonly vet Oley, and homeless veteran Bernard. Their backgrounds were equally as intriguing. And I loved the scenes when they interacted with Hazel and/or Atticus. It truly added a wonderful depth to the story.
Oh, my heart… Poignant, comical, and absolutely delightful, Atticus is sure to be a hit with anyone who likes a good redemption story. Especially one where the main character becomes the best version of themselves and gives back to others. I can't recommend this highly enough.
Book Info:

Publication: Published June 12th 2018 | Big Dog Books, LLC |
Through the haze of vodka and self-loathing, Hazel Roundtree saw the poor creature lying in a ditch.
One brown eye. One blue.
Covered in mud and crying from pain, the puppy was desperately trying to free itself from a hopeless situation.
She almost kept walking by. She had her own problems and besides… no one had ever stopped to help her.
Who we're ultimately meant to be is a journey without end, but there's always a defined start…
Hazel had no idea the dog would be her beginning, her second chance, the miracle she never saw coming. She named him Atticus. He grew up to be a very bad—and completely awesome—dog.
A heart-warming and deliciously funny story about the world's worst behaved dog and how he taught his human how to love again. Atticus will take the reader on a wild romp of mischievous misadventures in search of a much needed happily ever after.