The Forest of Vanishing Stars by Kristin Harmel: Having been raised by Jerusza in the deep forests bordering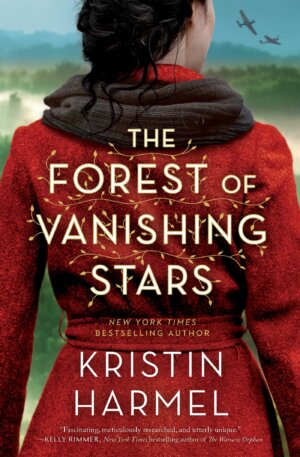 East Germany, Yona learns the powerful lessons of the earth, and absorbs the knowledge of the world without having lived in it. Jerusza, who was something akin to a witch, stole Yona from her German family in 1922 as a 2 year old when she had heard the mystic call that Yona's life was predestined for remarkable things.
Throughout their 20 odd years together, she held the deep knowledge that despite not wanting to be a mother, she must raise Yona to learn all she could teach to prepare her for what was to come. And whilst there was no softness between them, Jerusza performed her job perfectly, giving Yona more than just the skills required to survive the Nazi occupation as World War II begins. And yet despite this, Yona had little to no understanding of how to behave, how culture is created and how to engage in the most basic human interactions. Until, of course, she is put to the test and must do all she can to help those fleeing into the dark forest, escaping the Nazi brutality and horror that robbed the Jewish people of their futures, by sharing her knowledge of the earth to help them survive.
The choices she made, built on a multi-weave of instinct and compassion, and the deep trust she had in her faith, the earth and all things inexplicable, were what made Yona the perfect heroine from beginning to end. In many ways she was as much a victim as a creator in her own journey, given she had a sense of her pre-destined path and yet also knowing she must veer from that path when her heart voiced otherwise.
In essence, this was a true tale of survival, purpose, hope, love and the fierce spirit of the people who were forced to build new families and find new ways to exist in the echoes of horrendous violence and inexplicable destruction. And despite the perfectly blended generic elements of Magical Realism and Historical Fiction, Harmel's deep authorial research wholly underpinned the narrative, drawing from the real events that occurred in the many villages that sat on the outskirts of the dense trees.
For many, this will not be a quiet or gentle read, and yet its beauty lies in the necessity to repeat, recreate and share the tale lest humanity forget its darkest time and its capacity to do the unimaginable. Furthermore, there were so many stunning moments of love and joy that sat in utter contrast to the death and violence, which highlighted the sheer resilience of the human spirit and the necessity to look beyond religion and culture to find the voice of truth within. Summarily, I cannot recommend The Forest of Vanishing Stars enough – this is simply a must read for all.

Book Info:

Publication: 6th July 2021 | Gallery Books |
After being stolen from her wealthy German parents and raised in the unforgiving wilderness of eastern Europe, a young woman finds herself alone in 1941 after her kidnapper dies. Her solitary existence is interrupted, however, when she happens upon a group of Jews fleeing the Nazi terror. Stunned to learn what's happening in the outside world, she vows to teach the group all she can about surviving in the forest—and in turn, they teach her some surprising lessons about opening her heart after years of isolation. But when she is betrayed and escapes into a German-occupied village, her past and present come together in a shocking collision that could change everything.
Inspired by incredible true stories of survival against staggering odds, and suffused with the journey-from-the-wilderness elements that made Where the Crawdads Sing a worldwide phenomenon, The Forest of Vanishing Stars is a heart-wrenching and suspenseful novel.