The Friend Zone by Abby Jimenez: Kristen is smart, confident, feisty, independent, and tells it like it is. She's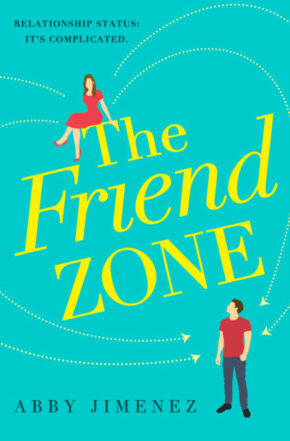 fun, funny, and blunt and tired of living with near constant pain. She's always wanted a family, but she's about to have surgery that will ensure she'll never get pregnant. She's loyal, great in a crisis, and yet never asks for help for herself. She loves running her own business and her dog, Stuntman Mike, who is very particular about who he likes.
Josh is happy to be working with his best friend, but he's not a fan of all the calls they respond to as firefighters and paramedics that aren't actually serious. He's smart, sexy, funny, generous, and can't wait to have a family of his own one day. He has six older sisters, so he knows how to deal with women, and he wants to have a large family.
Kristen and Josh may not get off on quite the right foot, but they immediately find that they share the same sense of humor, love to eat, and love the same movies. They just click and connect on so many levels, which is great since they will need to see each as they are the maid of honor and best man for their best friends upcoming wedding. There is an immediate attraction on both sides, but Kristen has her reasons for putting him in the friend zone.
I shook my head. "No, I'll pay for myself. We're not on a date."
"I know. Don't worry-I'm not trying to slip a date past you." He made a face like the idea was crazy. "I'd just like to buy you breakfast. I like feeding you."
Josh is less than thrilled by being friend zoned, especially by a woman who is so perfect for him. Their friendship becomes very important to both of them. They grow closer with each day they spend together and it becomes that much harder not to cross that line from friendship into more, even though both want more. It's almost a battle between Josh's patience and determination and Kristen's stubbornness.
"A Pop-Tart accident? You got injured making a Pop-Tart?"
I pulled my hand back and feigned indignation. "Yes, I did. The middle of those things are like molten lava when they're hot. And me and this particular Pop-Tart had a run-in."
His eyes danced with amusement. "We really need to keep you out of the kitchen."
The Friend Zone is heartbreaking, gut-wrenching, and emotional. Abby Jimenez wrote a difficult storyline with sensitivity, heat, humor, banter, and unwavering friendship. Ms. Jimenez developed a cast of characters you'd like to hang out with. Fans of Nicole Jacquelyn, Helen Hoang, and Meghan Quinn will love The Friend Zone.
Book Info:

Publication: Expected publication: July 9th 2019 | Forever Romance |
Kristen Petersen doesn't do drama, will fight to the death for her friends, and has no room in her life for guys who just don't get her. She's also keeping a big secret: facing a medically necessary procedure that will make it impossible for her to have children.
Planning her best friend's wedding is bittersweet for Kristen–especially when she meets the best man, Josh Copeland. He's funny, sexy, never offended by her mile-wide streak of sarcasm, and always one chicken enchilada ahead of her hangry. Even her dog, Stuntman Mike, adores him. The only catch: Josh wants a big family someday. Kristen knows he'd be better off with someone else, but as their attraction grows, it's harder and harder to keep him at arm's length.
The Friend Zone will have you laughing one moment and grabbing for tissues the next as it tackles the realities of infertility and loss with wit, heart, and a lot of sass.