The Game by Vanessa Fewings: Zara is a smart, dedicated, determined, and curious art investigator. She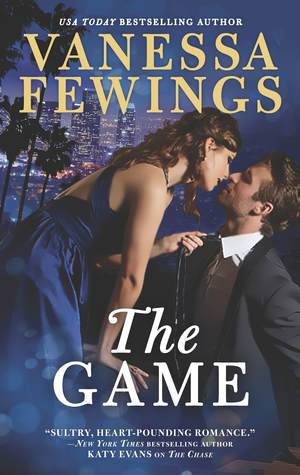 loves everything about art and history and she truly loves getting to work with art every day. After the loss of her family's precious art collection that featured incredibly valuable pieces as a child, she's determined to bring down the thief known as the Icon…even if he may be the very man she's fallen for.
Tobias is a tech genius. He runs a well-respected technology company in addition to owning an art gallery along with his other interests. He's sexy, charming, generous, debonair, and has an air of mystery. He seems to always be a few steps ahead and is one of the most sought after bachelors.
Zara loves her job, but she's afraid that she's nothing more than a mark and a source of information for Tobias. They have explosive chemistry and they easily connected over their mutual love and knowledge of art and history. But it's an impossible relationship if Tobias does have the alter ego she suspects he does.
"You're impossible."
"I'm impossible?" He pressed a finger to his chest. "You're impossible."
"Why?"
"You want to blow up my life."
It's clear from the beginning that neither truly want to walk away from their relationship, but they are definitely on opposite sides. It doesn't help that Tobias seems to have many secrets and deliberately keeps Zara in the dark on any number of things. They are perfectly in sync when they can shut the world away, and Tobias is definitely protective of Zara whether she wants it or not. They push and challenge each other as the hunt for Icon heats up.
I willed myself to calm down and gritted my teeth for courage. "I'm taking things into my own hands."
"Could you be any more exasperating?"
I stepped towards him. "There's a name for men like you."
"You mean reasoned? Logical? Discerning? How about sagacious? Let me know if I'm getting close."
The Game is like The Thomas Crown Affair meets Leverage and White Collar. Vanessa Fewings built on the seemingly impossible and forbidden relationship by testing their faith and trust in their relationship and what is right. Ms. Fewings created entertaining characters and suspense that pulls you into the story so that you need to know how it all ends. The Game is the second book in the ICON trilogy, which is probably best read in order but you can catch on if you haven't read The Chase. Fans of Ainslie Paton and Sierra Kincaide will enjoy The Game.

Book Info:

Publication: May 28th 2018 | HQN Books | The ICON Trilogy #2
Can she outwit the ultimate master in a timeless game of seduction?
Chasing Icon, the world's most notorious art thief, was the most seductive thrill of art investigator Zara Leighton's career…until the clues led her to the man who holds command of her body and heart, Tobias Wilder, a billionaire with charisma to spare. Her duty to capture him is complicated by the intensity of their passion. Her will to end their connection is tinted with red-hot need to never let him go.
Tobias's heists are about more than money or ego, but no one—not even Zara—can guess at his true motivation. But how can he pursue his deepest calling when it pits him against Zara, the love of his life?