In Da Rocha's Convenient Heir (Vows for Billionaires #3) by Lynne Graham, Freddie is afraid of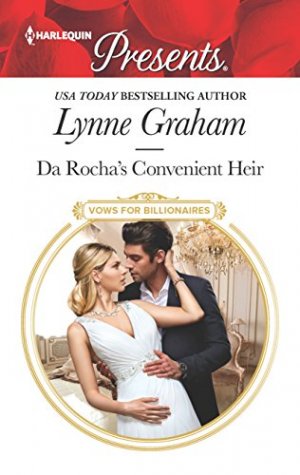 losing two people she cares about and she'll do anything to make sure her niece and nephew stay with her. However, the only possible way for that to happen is to strike a deal with Zac Da Rocha. Certainly, she'll have his baby, if he'll help her get custody of her sister's children. Will Freddie be able to convince Zac that he deserves love and happiness or will they walk away from their chance at happy ever after?
"I don't do lovelorn and clingy," Freddie muttered blankly, still struggling simply to accept that Zac could have a brother with some sort of royal connection. "Are you two crazy competitors or something?"
"Or something," Zac fielded non-committally. "But I'm here today because I was wondering if, for a very generous price—"
"No," Freddie slotted in flatly straight away. "And don't embarrass me by quoting figures! I was annoyed with you last week when you offered to pay me for an hour of my time and I wanted to teach you a lesson by landing you with me and the kids, but this paying me nonsense has to stop now," Zac frowned, level black brows pleating, his bewilderment patent.
I have really enjoyed the first two books of this series and have been looking forward to Zac's story, especially after the bet he made with one of his brothers. Did he win or lose? What did he have at stake if he did lose? The way this story started had me liking the close relationship he has with his new found family. They can laugh together and talk about everything and anything. Really, Zac has found he could trust his birth father and brothers quite quickly. However, it was from the moment the hero and heroine come face-to-face for the first time where things really take off for this story, as the heroine is a challenge for the hero. Will he find a way to win her over?
With the dialogue, it was intense due to the main characters back stories and everything these two go through on their journey to happy ever after, especially since the heroine will do anything for her family. No way can she lose her sister's children to the system. Not when she can do something about it. Moreover, both the main characters were fantastic and I really liked the hero's determination to win the heroine over. He needs her just as much as she needs him. Certainly, he's confident in his pursuit, is adorable with the heroine's niece and nephew and I liked how determined he was to help Freddie, even though he doesn't want a relationship. While the heroine, she's kind, caring, family-oriented and I liked that she was willing to agree to the hero's marriage of convenience in order for them to both get what they want.
"We could get this project off to a flying start right now," Zac said thickly.
And Freddie froze and let go of him, pushing him away until he had to let her down to stand on her own feet again.
"Problem?" Zac quipped very drily, his eyes luminous and coolly enquiring in the dim lights.
"I'm not getting into bed with you until we're legally married," Freddie spelt out in a defiant rush as she fought for what little security she could retain, which to her meant staying safe and uncommitted to the last moment.
Overall, Ms. Graham pens another really good read for this series where the chemistry between these two was strong and present from the beginning, the romance was delightful and had me loving that Freddie is so different to the women Zac normally goes for; and the ending had me loving the hero's words to win back the heroine. She's changed him for the better and there's no way he can let her go. However, it was the epilogue that wrapped this story up nicely and had me smiling a while after I read the last word because Zac and Freddie are so happy together and their time together is only going to get better. I would recommend Da Rocha's Convenient Heir by Lynne Graham, if you love the fake relationship trope, the marriage of convenience trope or books by authors Carole Mortimer, Cathy Williams, Miranda Lee and Susan Stephens.

Book Info:

Publication: June 1st, 2018 | Harlequin Presents | Vows for Billionaires #3
An heir for the Da Rocha legacy…
Secured with a ring!
Tycoon Zac's wedding to innocent waitress Freddie is pure convenience. Dark-hearted Zac will help keep Freddie's family together, if she provides him with a Da Rocha baby! He's confident their insatiable passion will soon burn out. But when Freddie falls pregnant, Zac realizes he craves more than just an heir. He wants to keep Freddie in their marriage bed—forever!