The Good Girl's Second Chance by Christine Rimmer is a good read that revolves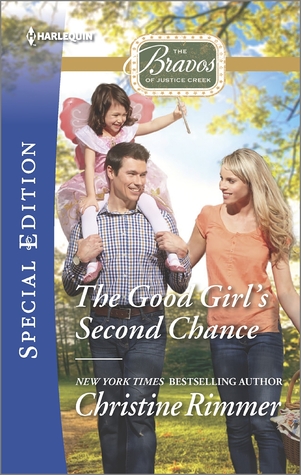 around second chances.
Quinn and Chloe were refreshing at times, but they moved too quickly for my taste. They have sex early on in the story without much conversation and then a marriage proposal pops up not long after. I would have loved to see more depth between the two characters. At times, I felt they were only together because of their proximity to each other. I would have enjoyed more romance between the characters.
Quinn was really patient with Chloe. Sometimes a little too patient, especially when came to the conflict revolving her ex-husband. I adored how sweet he was with his daughter and much he loved her.
Chloe impressed me as the story picked up. She wasn't just the rich girl who obeyed her parents at every turn. When she finds out her mom betrayed her, she stands up for herself and refuses any interaction with her mother. I loved that and it was totally unexpected.
The story was easy to read and didn't take that long to finish. I liked how there wasn't much angst, just drama and I enjoyed the supporting characters. Quinn's daughter was cute and Manny's interactions were fun.
Overall it was a cute read and anyone who loves second chances and romances revolving around single dads will appreciate this story.

Book Info:

Publication: September 15, 2015 | Harlequin Special Edition |
The Littlest Matchmaker Of Them All…
Quinn Bravo is a committed single dad—emphasis on single. The millionaire bachelor is focused on his four-year-old daughter and his fitness business. So while he's intrigued by his beautiful new interior decorator, Quinn resolves to keep the chemistry at a simmer. Until one night together causes their attraction to burst into flame…
After her ex-husband betrayed her, local good girl Chloe Winchester returned to Justice Creek, determined not to risk her heart again. Still, maybe she can live out some teenage fantasies with sexy Quinn while redecorating his house. But first Chloe will have to avoid falling for one adorable little girl and the man of her dreams!