The Good Luck Charm by Helena Hunting: Lilah is having a terrible day. It gets even worse when she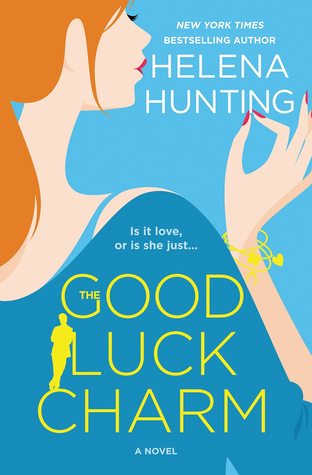 finally runs into Ethan again after their break-up eight years ago. A lot has happened in that time, but she's still very close to his parents who are like her own parents. It doesn't help that she's fresh off a divorce, Ethan is looking better than ever, and she's very definitely still attracted to him.
Ethan is happy in a sense to be traded back to the NHL team in Minnesota. It'll be good to be closer to his family, but he feels like his career might be over soon. He was quite the phenom in high school and college, but he's struggling to regain the confidence he used to have on the ice. The best perk of moving home again is seeing Lilah and maybe having a second chance with the only girl he's ever loved.
Ethan and Lilah were inseparable as childhood best friends that turned into romance in high school. Their lives diverged on different paths when Ethan was drafted and the break-up was hard on both of them. While Ethan isn't a playboy, he's also never found anyone quite like Lilah or the connection they shared as teens in love.
She bats it away. "What're you doing? Don't do that."
"I'm trying to calm you down so I can explain myself, and so you'll actually listen to the words instead of that angry white noise up in your head."
"I don't want you to calm me down! I want to be angry! I have a right to be mad at you."
Ethan is very much ready to discuss the past so they can resume their relationship, but Lilah just about pulls out all the stops to avoid their past. Ethan is certainly persistent and takes advantage of any opening he gets. They have great chemistry and banter and they quickly begin to spend all of their time together. His life is better on and off the ice when they're together, but they have to adjust as they are different people now with new goals and dreams.
"I've already expressed my interest."
"But is that all you're interested in? I need to know exactly what's at stake with this kiss so I can strategize my approach."
"This isn't a hockey game, Ethan. It's a kiss, which will hopefully also lead to some scoring."
The Good Luck Charm is an absolute delight. Helena Hunting delivered banter, heat, humor, and family as Ethan tries to earn back the one thing he needs. Ms. Hunting crafted an entertaining and sexy story with a relatable cast of characters. Fans of Emma Chase, Christina Lauren, and Jaci Burton will love The Good Luck Charm.

Book Info:

Publication: August 7th 2018 | Forever |
Is it love, or is she just his good luck charm? New York Times and USA Today bestselling author Helena Hunting absolutely delights with this witty and fun standalone contemporary romance.
Lilah isn't sure what hurt worse: the day Ethan left her to focus on his hockey career, or the day he came back eight years later. He might think they can pick up just where they left off, but she's no longer that same girl and never wants to be again.
Ethan Kane wants his glory days back. And that includes having Lilah by his side. With her, he was magic. They were magic. All he has to do is make her see that.
Just when Lilah might finally be ready to let him in, though, she finds out their reunion has nothing to do with her and everything to do with his game. But Ethan's already lost her once, and even if it costs him his career, he'll do anything to keep from losing her again.