In Scoring the Player's Baby (WAGS #3) by Naima Simone, when Ronin Palamo agrees to attend a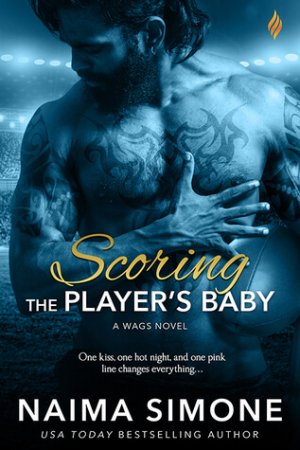 wedding expo with his sister, he never imagined his life would change for the better. However, winning over PR whiz Kim Matlock may be harder than he thought since she's already been betrayed by her ex-husband. Yet, when she discovers she's pregnant, Ronin will do everything he can to prove he's not like her ex at all. Will Kim be able to put her trust in Ronin, so they have a shot at happy ever after or will she break his heart because she can't move beyond the past and the hurt she's suffered?
"All I have in this world are my balls and my word, and I don't break either for nobody."
She blinked. "Did you really just quote Scarface?"
He grinned. "You know Scarface? God, that makes you hotter."
She scowled, fighting not to smile at his ridiculousness. "I thought you said I looked like sh**."
He shrugged one of those massive shoulders. "The two don't have to be mutually exclusive."
When Ms. Simone first revealed the cover of this story to readers, I wasn't all that thrilled. Nevertheless, there was no way I wouldn't have read this story, and now that I have read it, I've got to say that the cover does this story absolute justice. Ronin is the epitome of the bearded guy on the front with plenty to offer. He's charming, confident and an all-round good guy with the way he does anything for family, which is proven by the way this story starts with his sister needing his support in order to figure out ideas for her wedding. Will Ronin be much help? However, it was from the moment Ronin and Kim come face-to-face for the first time that I absolutely loved, as Ronin is in desperate need of saving. Will Kim be willing to help him?
As for the dialogue, it was highly entertaining and intense due to the main characters back stories, as the heroine has already been deeply hurt by her ex-husband who just happens to be in the same profession as Ronin. Will Ronin be able to prove he's different than her ex, even though he has quite the reputation with the ladies? Moreover, the heroine is independent; hard-working; has been through tough times because of her horrible father that doesn't bother to acknowledge her existence; and I could understand why the heroine is determined to keep her distance from the hero because she fears being hurt again. Since it seems Ronin could hurt her way more than her ex ever did if she's not careful. I also liked the close relationship the heroine shares with her brother and how supportive he is of her, which is proven by everything he's done for her. Yet, what I liked most of all about the heroine was the choices she makes when it comes to dealing with her father, dealing with her ex and deciding whether she can handle having a relationship with another sports player in Ronin.
"Thanks." She waved a hand toward the area behind her – the hand still firmly clutching the wine bottle. "Come on in."
"Is it safe?" He nodded towards the Reisen. "Or can I expect a whack to the back of my head as soon as I turn around? That would be a new way to get me under you." He wiggle his eyebrows. "Not gonna lie. I've never been one for pain with my pleasure, but for you? I could get down with the Red Room sh**."
Any woman worth her ereader would've understood his reference to Christian Grey's room of BDSM fun.
While Ronin, he had me smiling or laughing many times throughout this story with the playful banter between the pair that he initiates because he wants to put the heroine at ease and get to know her. I also couldn't help but sympathize with him when it comes to his past because he's felt so guilty since the loss of someone close to him and it's hard for him to ever imagine letting someone in that close again. Will he finally be able to move forward from the past, if he can win Kim over? Yet, what I liked most of all about the hero was the close friendships he shares with his teammates and how they tease each other and offer each other advice; advice that Ronin desperately needs if he's to ever have a shot with Kim because her ex did a real number on her. Will he man up and accept their advice or will he give Kim time to realize that he's a good guy and someone she can trust?
Overall, Ms. Simone has delivered the best read of this series yet in this book where the chemistry between this couple was tangible and off-the-charts; the scorching romance heats up the pages and does justice to this couple's incredible chemistry; and the ending had me loving the heroine's courage and determination to show Ronin that she wants him in her life. Really, her efforts to show him he's the right man for her had me smiling long after I finished this story. However, it was the epilogue that wrapped this story up perfectly, as Ronin and Kim are so happy together and are doing their best to support a friend. Will everything go off without a hitch, considering the important question of the hour? I would recommend Scoring the Player's Baby by Naima Simone, if you enjoy the opposites attract trope, the surprise pregnancy trope, the enemy to lovers trope or books by authors Amy Andrews, Kathy Lyons, Cindi Madsen and Kate Meader.
Book Info:

Publication: July 9th, 2018 | Entangled Publishing | WAGS #3
After a divorce from her cheating football player ex, PR whiz Kim Matlock would rather drive a pine tree through her walled-off heart than work at the Seattle Wedding Expo. And the last thing she expects is to be grabbed and kissed breathless by a hot giant of a man looking to fend off a stalker. She doesn't want emotional entanglements, but she can't say no to one scorching night with the sexy stranger.
To her shock, she finds out afterward that a) he's a pro football player, aka her kryptonite, and b) she's pregnant.
But nothing could have prepared her for his response…