The Goodbye Guy by Natasha Moore: Rachel Bradford left her hometown of Lakeside years ago. Her parents didn't approve of her choice of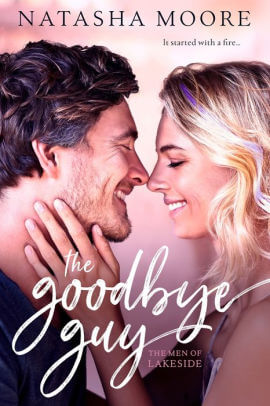 college majors and her father even told her she would probably never be successful. Well, she has proved him wrong by having her own reality interior design show. She lives alone in California because she believes she has to put her whole self into her career.
Rachel's producer warns her they need to spice her show and add some new buzz to keep it from being cancelled. She is truly stunned when she is told she will be going back to Lakeside to help convert an old fire station into a neighborhood bar. Even worse, is the owner of the bar is Beckett Colburn, her teenage nemesis.
Beckett is unhappy, too. His family has made the deal with the show to help him. He just knows that his vision for the bar will be lost and he doesn't want to work with Rachel.
Once the crew gets to town they encourage Rachel and Beckett to create more buzz by pretending they are having a hot romance. Beckett is not the bad boy he once was. He now is the single dad of the lovely Holly. Maybe Rachel and Beck can pull off the PR stunt for the few weeks of filming. Or maybe they will fall in love.
I enjoyed the fact that the author made Rachel a more mature woman and not just a naive twenty something. Rachel still has a playful side and likes to have fun. She has a tender heart that she has tried to hide for a long time. It's a shame her parents have not been more accepting of her and other people not of their social status.
Beckett had his journey that took him away from Lakeside and then brought him home with a newborn daughter in tow. He may show a tough exterior, but his daughter is his first priority. His parents have supported him and ten year old Holly and have truly loving hearts.
The Goodbye Guy has its fair share of spicy romance, but it's so much more. The importance of home and family is threaded through this heartfelt story. The author also asks the question of what is most important in life and what are you willing to sacrifice to achieve that.
This novel is third in The Men of Lakeside series. I have not read the other two yet, but had no problem being totally immersed and engaged in this novel.
Book Info:

Publication: July 20, 2020 | Entangled | The Men of Lakeside #3
Rachel Bradford is finally living her dream as the star of her own interior design show. But ratings are slipping, and if she wants to save the show, she has to set an episode in the hometown she fled. Worst of all, she's going to have to work with the cocky bad boy who humiliated her.
Single dad, Beckett Colburn plans to turn an old fire station into a neighborhood bar. He's blindsided when he discovers his family made a deal to turn his dream into a reality TV project. He'd rather run into a burning building than work with his childhood nemesis–on camera.
But it's not easy with a TV crew in town stirring up trouble, spreading rumors, creating buzz. Not to mention the inconvenient sudden attraction that sparks every time Rachel and Beckett fight.