How to Catch a Sinful Marquess by Amy Rose Bennett is the third book in the Disreputable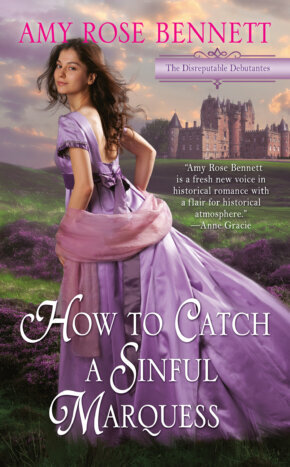 Debutantes. This has been such a fun series to read with a unique storyline of four ladies being expelled from a ladies' academy. The ladies are now trying to find husbands but with their tarnished reputations it's not easy. Every book in the series seems to get better and better and this book caught my attention right away. The characters were captivating, and the book flowed so smoothly from scene to scene making it so easy to read.
Olivia de Vere (aka. Lavinia Morland) was an orphaned heiress living with her uncle and his family. They had been trying to convince her to marry her degenerate cousin, Felix, so her money would stay in the family. Her aunt and uncle rarely let her leave the townhouse and her cousins mocked her when she stuttered. Upon learning Felix was stealing her money and him threatening her, Olivia knew she had to escape London. With her friends out of town, she didn't know how she could escape until she discovers Hamish's dilemma and offers to travel to Scotland as his nursemaid under a false name. She felt guilty for not telling Hamish the truth, but she was afraid he would return her to London if he knew who she really was. Hamish was able to draw her out of her shell and help her to become more self-confident. Her infatuation for him grew and when her identity is revealed, she agrees to Hamish's solution and agrees to marry him to escape her family. She hopes to make him fall in love with her and forget about divorcing her after she receives her money.
Hamish MacQueen, Marquess of Sleat, was scarred on the outside and inside after going to war and growing up with an abusive father. He never planned on getting married or having children, afraid he would pass on his darkness or become abusive like his father. When Tilda, a screaming young child, with a note claiming him as her father is left on his doorstep, he has no idea what to do with her. Olivia's offer to travel with them was a blessing but he knew she was running from something but was afraid to find out. Discovering she was Olivia de Vere instead of Lavinia Morland shocked him, but he wanted to help her. Marrying her until she receives her inheritance and comes of age and then divorcing her sounded like a great idea. He tried to resist her believing that he wasn't good enough for her, but as her self-confidence grew so did her determination to stay married to him.
I have really enjoyed seeing Olivia become more outgoing and more assure of herself. She made Hamish question all his fears and realize that he wasn't like his father. His past didn't make him a bad person instead it made him a better person because he knew who he didn't want to be. I have loved reading this series and look forward to the next book. I can't wait to read Charlie's story.
Book Info:

Publication: August 25th 2020 | Berkley | The Disreputable Debutantes #3
A shy, tangle-tongued debutante and a former soldier make an unlikely but fated match as they hasten for the Isle of Skye.
Orphaned heiress Olivia de Vere should have the world—or at least the men of the ton—at her feet. But when she's thrown out of a young ladies' academy, Olivia doubts she'll ever find someone who will love her, rather than her bank account. To make matters worse, her dissolute cousin, Felix, is determined to marry her against her wishes. A virtual prisoner in her guardians' London townhouse, Olivia can't help but develop a tendre for her neighbor, a handsome Scottish marquess.
Battle-scarred in more ways than one, Hamish MacQueen, Lord Sleat, has braved many dangers in life. But nothing has quite prepared him for the shock of having a young child dumped on his doorstep, with a note claiming she's his daughter. Just in the nick of time, his pretty neighbor appears, offering to act as a nursemaid for the young girl on their journey to his estate in Scotland. He suspects she has her own reasons for wanting to flee the country…
The close traveling quarters leads to a fierce attraction between Olivia and Hamish that seems impossible to resist. But when ghosts from the past and monsters from the present threaten to tear them apart, will their unlikely love survive?