In The Great Alone by Kristin Hannah, Moving from place to place has become the norm for Leni Allbright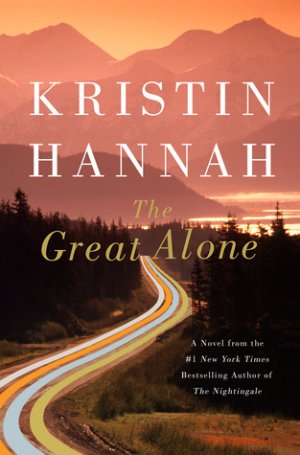 and her mother and father, Cora and Ernt. Especially since her Dad returned home from Vietnam, having been held captive for several years as a POW. But moving to Alaska seems a bit drastic, even to thirteen-year-old Leni. She changes her mind, though, when she sees the beauty of the land and with the warm welcome they receive in the small community of Kenaq. Her father might be looking for isolation and a way to live off the grid, but she longs to have wild adventures and to learn more about the majesty of her new home.
'Dad wanted a new beginning. Needed it. And Mama needed him to be happy.
So they would try again in a new place, hoping geography would be the answer. They would go to Alaska in search of this new dream.'
However, none of the Allbrights were prepared for the summer days of constant work or the winter days shrouded in darkness and the fear of running out of resources. The many hours without daylight also has an negative effect on Ernt, leaving Cora and Leni constantly walking around on eggshells. With the family at their breaking point, Leni focuses on her growing relationship with her neighbor Matthew Walker. Something that doesn't sit well with her father. Over the ensuing years, the choices they each make will alter their lives in profound and irreversible ways. Some for worse and some for better.
'Love and fear.
The most destructive forces on earth. Fear had turned her inside out, love had made her stupid.'
The Great Alone was an absolute emotional powerhouse. At times dark and disturbing, other times hopeful and even tender, Kristin Hannah yet again proved her ability to create a tale of grand proportions.
'Alaska doesn't attract many; most are too tame to handle life up here. But when she gets her hooks in you, she digs deep and holds on, and you become hers. Wild. A lover of cruel beauty and splendid isolation. And God help you, you can't live anywhere else.'
Trigger Warning: Murder, PTSD, domestic abuse.
After devouring The Nightingale, I knew I needed to read more of Kristin Hannah's work. But I also knew that I would be an emotional wreck with each book I finished. And I certainly was with The Great Alone. I have to warn readers that this will be a rough story to get through in some respects. Hannah doesn't skim over the darker parts of her characters' personalities or the real life issues they faced as survivalists in an unforgiving land–as you can see from the trigger warning above. And although I've never been to Alaska, I've seen and read enough about it (and having lived in Maine all my life, dealing with weather and wildlife issues) to understand some of what Leni and her parents endured. Especially in the winter months. The isolation, lack of food, family problems…it all added up to a bad, bad situation. But I can honestly say the book ended on a much more positive note than I could have hoped for after the many troubling years our protagonists had to slog through. (By the way, the novel is broken up into three main parts: 1974, 1978, 1986, plus a small passage in 2009.)
'In his eyes, she saw more love and sadness than should be able to exist in one human being. Something was tearing him up inside, even now. It was the other man, the bad man, who lived inside of him and tried to break out in the darkness.'
Hannah writes her characters and their situations so convincingly that as a reader I went through the same emotional roller coaster they did. I actually found myself feeling anxious for Leni and Cora, just knowing something tragic was going to happen. And each time something did occur, my heart broke as I cried along with them. It was interesting that this was told from three POVs: Leni predominantly, but also her mom Cora, and Matthew, who became Leni's boyfriend. I was thankful in a way that we didn't get inside Leni's father Ernt's head, with everything he was going through mentally after returning from Vietnam. Watching her and Cora tiptoe around him was bad enough. And as much as I wanted to rail at Cora for putting her daughter in such a dangerous predicament, her love for Leni was so evident that I couldn't stay angry at her. I did like that Cora and her daughter grew stronger in Alaska and it was wonderful to see the already solid bond between them strengthen even more.
Incredible secondary characters (Large Marge!), a compelling plot with Hannah's lovely writing voice, and beautiful descriptions of the Alaskan landscape and wildlife pushed The Great Alone over the edge from a typical novel to an unforgettable journey.

Book Info:

Publication: Published February 6th 2018 | St. Martin's Press |
Alaska, 1974. Untamed. Unpredictable. A story of a family in crisis struggling to survive at the edge of the world, it is also a story of young and enduring love.
Cora Allbright and her husband Ernt, a recently-returned Vietnam veteran scarred by the war, uproot their thirteen-year-old daughter Leni to start a new life in Alaska. Utterly unprepared for the weather and the isolation, but welcomed by the close-knit community, they fight to build a home in this harsh, beautiful wilderness.
At once an epic story of human survival and love, and an intimate portrait of a family tested beyond endurance, The Great Alone offers a glimpse into a vanishing way of life in America. With her trademark combination of elegant prose and deeply drawn characters, Kristin Hannah has delivered an enormously powerful story that celebrates the resilience of the human spirit and the remarkable and enduring strength of women. About the highest stakes a family can face and the bonds that can tear a community apart, this is a novel as spectacular and powerful as Alaska itself. It is the finest example of Kristin Hannah's ability to weave together the deeply personal with the universal.