The Heat is On by Katie Rose, is sexy and tempting and with a hero unlike any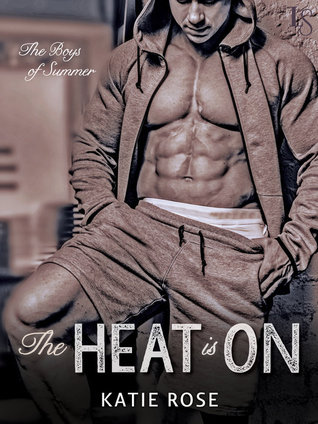 other.
Connor Jackson is coming home to New Jersey after being traded. It's supposed to be his last season and he can't think of a better place to end his career then his home state. Of course, it helps to know that the one woman he's never forgotten is newly divorced and he can't wait to reenter her life.
Connor and Tracy were college sweethearts, but he left her to further his baseball career. He's done very well for himself and Tracy, well she's divorced with four kids. Kids that Connor doesn't know about. There are reasons for not telling Connor straight away about the kids and I could sympathize with her for not mentioning them, but in the end it doesn't matter because he does find out.
I adored Connor. He knew Tracy was the one for him and he didn't let her having kids stop him in his pursuit. Most men I know would run away after hearing the woman he's interested in has one kid, let alone four, but Connor isn't most men. When he can finally wrap his head around the idea of children, he goes after her with a fierce passion that is pretty swoon-worthy. He steps up when the kids' father bails on them and protects them as any parent would.
Tracy is a strong heroine. She has to be with four children and a good for nothing ex-husband. She's also vulnerable and doesn't believe Connor or any man for that matter, would start a relationship with a woman who has as much baggage as she does. What she doesn't count on is Connor's love for her. The relationship between Connor and Tracy is passionate, beautiful, and gives new meaning to the term "true love."
My only complaint about the story was Tracy's ex-husband. I would have really enjoyed this story more had Jeremy got hit by a bus, or something equally large, but that didn't happen. Oh well, I can always pretend it happened.
Book Info:

Publication: January 5th, 2016 | Loveswept | The Boys of Summer #4
Perfect for readers of Joanna Blake and Sawyer Bennett, hailed as "charming, sexy, and smart" by Lauren Layne, the Boys of Summer series from award-winning author Katie Rose heats up as a homegrown baseball star returns to snag the one that got away.
When veteran catcher Connor Jackson gets traded to the New Jersey Sonics, he welcomes the opportunity to possibly cap his career with a World Series ring in his home state. But there's another reason Connor is glad things have come full circle. In pursuit of hardball glory, he left behind his college sweetheart, the one girl he could never forget. Seeing her again stirs up long-lost desires . . . and this time, he's determined not to strike out.
A divorced mother of four, Tracy Coleman no longer aspires to gossip-mag glam—but she'll make an exception for a date with Connor. Their chemistry is hotter than ever, and being alone with him is more seductive than she anticipated. Who could blame her for leaving out a little detail like the kids? Now all she has to do is come clean and convince the man of her dreams that they—Connor, Tracy, and her children—have a future together.