In Lost to the Desert Warrior by Sarah Morgan, Layla and her sister Yasmin were terrified. She was slated to marry her newly deceased father's rather evil henchman Hassan so he could assume the crown, and her sister was to be shipped to America to keep her from causing trouble. And it would all happen before her father's body had time to get cold.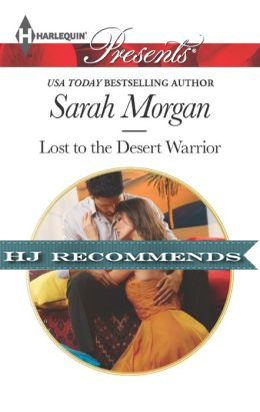 But if there's one thing the two women had learned, it was to survive. Their father had absolutely no interest in them, and Hassan had played cruel games with their lives. They had rarely left the palace grounds, and had virtually no contact with the outside world. Layla, however, learned all that she could by reading. She learned that the country she loved could be ruled by another.
Sheikh Raz Al Zahki lived life amongst his people. He was known as the Desert Warrior for many reasons. He survived through great trauma by assuming the Bedouin lifestyle. When he hears the current ruler of Tazkhan has died, he makes plans to assume the crown that was taken from him. The man had stolen the lives of his father and wife, and now that he was dead he could start to help his country to heal.
He assumed that the princesses enjoyed a privileged lifestyle, so when Layla – dressed as a boy – travels through the desert to find him, he's shocked. Raz isn't sure if he should trust her, but the logic behind her assertions cannot be assailed. They should marry that night to ensure his position, and to keep her from marrying Hassan.
Layla is terrified because she and her sister were separated on their way to meet with Sheikh Al Zahki, so he sends his brother to find her. With that mission and the vows they speak, their treatise is begun.
Raz learns that Layla isn't what she seemed or what he assumed. Against his will, he is forced to see that she is more than just a spoiled heiress. She is smart, yet incredibly innocent. Layla speaks her mind, and is straight with him. Most importantly, she cares more than she wants to admit.
When Layla learns the secrets Sheikh Al Zahki has been keeping in order to stay safe from her father, the hatred she already had for him multiplies. Between discovering who she is outside the palace and helping Raz reconnect with his life, she finds the lesser of two evils can turn out to be the best decision she's ever made.
Lost to the Desert Warrior is the absolute best HQ Presents I've read in a long time. The books in this line are similar, in that they center around exotic locales with hot & broody alpha males, and usually meet their match in a surprisingly fiesty heroine. This story had all of that and more. I instantly liked the characters, even the ones not delved into fully.
(I'm assuming we'll eventually get the story of Yasmin and Raz's brother, Salem – and I'm looking forward to it). Great foundation, and built upon brilliantly.
 Book Info:

Publisher: Harlequin (August 20, 2013) | Harlequin Presents (Book 3171)
"Walking into the lion's den unprotected, Princess?"
For Layla, princess of Tazkhan, her arranged marriage means one thing—a lifetime of cruelty and captivity. Such an unendurable prospect drives her to throw herself at the mercy of Sheikh Raz Al Zahki—her family's greatest enemy!
Raz demands one thing in return for the safe haven Layla is seeking—this brooding desert king wants to make her his queen! Her freedom might be secured, but now her heart is at risk, for soon she's lost to the scorching heat of their marriage bed. However, it will take more than fire to thaw her guarded husband….